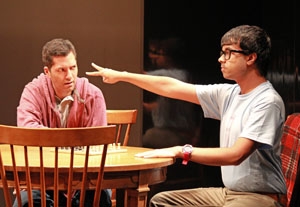 If you go in without any foreknowledge, Chad Beckim's "After." will keep you guessing for a while. As the stage fills with ambiguous chat about the unusual behavior of Monty, the central character, Beckim slowly reveals that something awful happened to him. Director Stephen Brackett keeps the suspense coursing throughout Beckim's simultaneously moving and humorous play about a wronged man embarking on a new life.
Those who read a synopsis beforehand, however, will know that Monty (a subtle Alfredo Narciso) was mistakenly imprisoned for 17 years. As he re-enters society, he must learn to deal with everything from toothbrush shopping to love. Fortunately, Beckim doesn't paint his protagonist as the typical ex-con. Monty ambles about, confused by his new freedom, and speaks with pure innocence, even when provoked. As his friends and family learn more about his prison past, they come to expect rage. I also found myself expecting anger, but it was more satisfying when it didn't come, lending dimension to this sympathetic character. Only when Monty starts to take control of his space and his life does he start to heal.
Brackett elicits fantastic performances from his actors, who fill Beckim's flawed individuals with ease. As Warren, the video game designer turned doggy daycare manager, Debargo Sanyal is a riot. His character's underlying bitterness supplies the comic pulse to his rich and emotional performance. Warren lives in a metaphorical prison, forced to watch dogs by his overbearing father. Sanyal has an uncanny sense of both comedy and drama and brings both sides to the part. Jackie Chung also delivers a colorful performance as Susie, the CVS employee who becomes the romantic linchpin in Monty's post-prison love life. The self-described "assertive" Susie could come across as grating, but Chung wields her character's neurosis carefully, making her an endearing person. Maria-Christina Oliveras amps up the dramatic factor as Monty's sister Liz, keeping the sibling's frustration calculated and effective. Andrew Garman plays Chap, Monty's priest, who regularly visits in plainclothes to check in on him. Garman is gentle, allowing Chap's kindness to slightly provoke his parishioner.
Jason Simms' set is simple and effective, with a sliding black panel dividing Monty's home and work, while Daniel Kluger's sound design is almost cinematic, using soundtracklike music and abrupt tones to transition between and add emphasis to scenes. Greg Goff's lighting complements Simms' creation well and adds life to the stage.
The 11th-hour surprise twist does come a bit out of nowhere, almost forcing the play to climax, and the script's psychology is difficult to crack, but that's part of what makes the action feel real. I don't know if I understood Monty much better at curtain, but I sympathized with him on some level, making "After." ring true.
Presented by Partial Comfort Productions at the Wild Project, 195 E. Third St., NYC. Sept. 21–Oct. 8. Wed.–Sat., 8 p.m. (212) 352-3101, (866) 811-4111, www.theatermania.com, www.partialcomfort.org, or www.thewildproject.com. Casting by Judy Bowman.