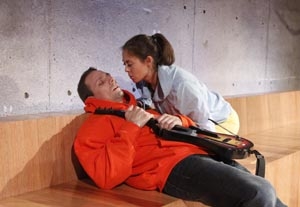 Writer-director Julia Jarcho seems to be having genre trouble: Does she want to make conceptual art or narrative drama? Staged in Abrons Arts Center's low-ceilinged, heavily cemented theater, on a thin stage occupied by a floating white cube inside a clear cube, "Dreamless Land" could donate Jason Simms' set to a gallery with minimal adjustment. That Jarcho has asked her actors to commit to an affectless presentational delivery only adds to the sense that she's more interested in image than story.
And yet there is a story in her play, barely visible beneath its rigid packaging, of a young girl with melodramatic fantasies about her friend's family that in time become an obsession and overtake her adult life. It's not an original premise or an especially significant play, but it could work if its production style were willing to delineate the theatrical world's multiple levels, rather than dissolve its many perspectives into cold, museumlike flatness.
Jarcho's directing style owes an obvious debt to Richard Maxwell, who produced "Dreamless Land." His system is misapplied here, but it nonetheless allows the four members of Jarcho's ensemble to flourish. They succeed in measuring the sizable, sometimes funny, and sometimes disturbing gap between feelings and the words and gestures used to express them. A particular delight is Linda Mancini, who, as the heroine's tightly wound boss, transforms spy-movie paranoia into deliciously modern comedy. Her scenes are a welcome source of life in an otherwise frozen evening.
Jenny Seastone Stern and Ben Williams, as Haley and Morton, the best friends who become spouses in the second act, find real tenderness in their mumblecore momentum, while Richard Toth, as Morton's cruel and narcissistic father, is both savage and sexy. Their successes hint at what has been obscured behind an uneven and ultimately deadening production. 
Presented by Richard Maxwell and New York City Players at Abrons Arts Center, 466 Grand St., NYC. Nov. 4–20. Wed.–Sun., 8 p.m. (212) 352-3101, (866) 811-4111, www.theatermania.com, or www.abronsartscenter.org.