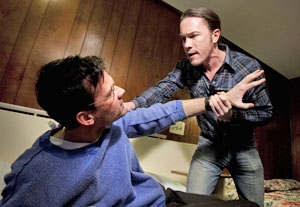 Richard Taylor's terrific new play "In God's Hat" is contemporary Grand Guignol of a high order. As realized in director Kevin Kittle's intense and splendidly acted production, it inspires gut-grabbing terror and delivers an emotional jolt as well.
The unease begins with the brief first scene, as Roy, sturdy but nervous, waits outside a prison gate to meet his older brother, the mild-mannered Mitchell, just released after 10 years of incarceration for pedophilia. Roy clearly has a score to settle, uncertain though the score itself is. The suspense builds as the two check into a lonely motel, where Mitchell relates his horrific experiences in the pen at the hands of a murderous white supremacist named Arthur Cruter. Then who should come knocking at the door but Cruter, also just released. The first act ends in a blast of nightmarish violence. In the second act, the suspense mounts again when Early, one of Arthur's Aryan Brotherhood buddies, shows up; he's even more terrifying than Arthur.
Yes, some turns in the script may be forced, and the story itself covers familiar terrain as it delves into the background of Mitchell's affliction. But the dramaturgy is so shrewd and the performances are so convincing that you'll suspend disbelief without hesitation. The writing also plunges compellingly into profundity, as Roy expounds on his crisis of faith, movingly exorcised in the play's closing moments.
Tom Pelphrey (an Emmy Award winner for his work on the soap opera "Guiding Light"), as Roy, and Rhett Rossi, as Mitch, virtually strip the two brothers down to their anguished soles, and yet the characters remain two guys you somehow root for. Their chemistry as brothers is unassailable, capturing both the pain and humor of sibling give-and-take. Taylor's crisp dialogue has a goodly share of funny lines while remaining true to the circumstances. Dennis Flanagan as Arthur and Gary Francis Hope as Early are the all-too-real embodiments of brutal racism and unrelenting threat.
The show has been expertly mounted, from the cheapie motel room of set designer Michael Reese, which fairly oozes menace, to the makeup of Chris Halladay, who provides a complement of shudder-inducing bodily scars and slashings. It's the first outing of the Apothecary Theatre Company, formed primarily by alumni of Rutgers University's Mason Gross School of the Arts. It's an admirably hair-raising debut.
Presented by Apothecary Theatre Company at the Peter Jay Sharp Theater, 416 W. 42nd St., NYC. July 18–Aug. 7. Wed.–Sat., 8 p.m.; Sun., 2 p.m. (212) 279-4200 or www.ticketcentral.com.