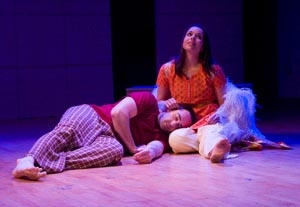 "Before I built a wall I'd ask to know/What I was walling in or walling out." These lines come from Robert Frost's poem "Mending Wall," the inspiration for Erin Browne's futuristic play "Menders." Set in a time when a physical wall separates a legalistic community from life's harsh realities, Browne's work adequately confronts basic issues plaguing today's society.
Lines from the poem pepper Browne's dialogue, with phrases like "Something there is that doesn't love a wall" and "Good fences make good neighbors" becoming the characters' resounding mottos. But these young people do not—or should not—know what poems are, as they come from the mysterious time before. Cousins Corey (a level Sol Marina Crespo) and Aimes (Isaiah Tanenbaum) are recent graduates of "The Academy" and are about to start their first week of training to be "menders," whose charge is to look for any breaks in the enclosing wall or evidence of people crossing it.
As happens in such stories as Aldous Huxley's "Brave New World," in which babies are engineered, and George Orwell's Big Brother novel, "1984," the community strictly regulates its members' every action. From a single-child rule to strict bans on homosexuality to regulated diets, the homogenous environment discourages anything that might lead to social imbalance. In response to a question from Drew (a steady Matt Archambault), a training officer with a suspicious past, about how Corey will feel about watching the punishment of the people she arrests, the trainee responds, "I will have whatever reaction is required of me," as if being human is against the law.
Corey and Aimes' one escape is through Drew's stories, and he tells two tales, both love stories. In the first, wheat farmer Jeff (Mike Mihm)—farms and wheat are foreign concepts to the cousins—falls in love with a winged woman (Vivia Font) who lands in his fields. However, for fear of losing her, Jeff clips her wings, and she loses her free will. (Notice the metaphor?) In the other, Ash (Raushanah Simmons) and Tam (Ingrid Nordstrom) meet on an underground train, another novel notion. Ash is an investment banker moonlighting as a subway busker, and Tam lives her life underground, as she is allergic to the sun. These two women forge an intimate connection, and both trainees are shocked by the idea that two women could be together, as this is one of many things the community discourages. However, constant discouragement does not subdue innate longings, and the story's effect is to allow "illegal" desires to surface in Drew and Aimes, upsetting Corey and leading to cautionary consequences.
Director Heather Cohn keeps the piece well-paced, and Kia Rogers' lighting and Cory Rodriguez's movable set make effective use of the barren space. There are no standouts in the ensemble-driven piece, but Crespo carries the arc well as the central Corey.
Browne has written a good play, but sometimes good falls short. The issues she champions feel overdone, and the futuristic form comes across as derivative of earlier, groundbreaking works. While the story is compelling and interesting, it feels too familiar.
Presented by Flux Theatre Ensemble at the Gym at Judson, 243 Thompson St., NYC. Jan. 19–Feb. 11. Schedule varies. (212) 352-3101, (866) 811-4111, www.theatermania.com, or www.fluxtheatre.org.