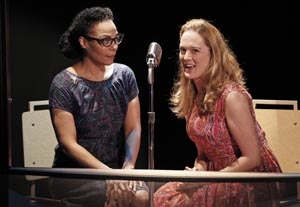 A determinedly poetic, sometimes irksome obtuseness flits through "Nightlands," a new drama by Sylvan Oswald, presented by New Georges at the HERE arts center. "These are the nightlands/And all the daylands in between," says one character in a typical monologue. The setting as described in the program— "a memory of North Philadelphia" —signals the mood: fluid often stylized staging, pantomimed props defined by sound effects, and actors obviously taking on double roles. Nevertheless, when Oswald's script and Tamilla Woodard's responsive direction get down to the business of storytelling, the show spins an arresting tale of an unlikely love affair set against the roiling racism of the early 1960s.
White, Jewish Netta Klein sells wigs and is trapped in a loveless, childless marriage with her post-office worker husband Russ. Ivy Silver is an African-American astrologist broadcasting on a public-access radio station. Her broadcasts and private readings have caught the attention of other women in Netta's wig-selling group. Ivy's voice on the radio  soothes Netta's restless soul. When they meet, a relationship ignites. Netta becomes a co-host on Ivy's show, but their love—which in the 1960s still dare not speak its name—is battered  by the racial unrest that infects the city and finally erupts into violence.
The production is given great ballast by Rachel Leslie's portrayal of Ivy. She imbues the character with deep levels of feeling, almost but not quite hidden under a shell of magnetic intelligence. Leslie's intense but business-like delivery of Ivy's descriptions of planet movements could turn an astrological non-believer into a fanatic. Polly Lee gives Netta a compelling vulnerability that wins sympathy for the character's plight. 
There's fine work by Michael Milligan as Netta's husband and Hubert Point-Du-Jour as Ivy's son. However, when the two actors don wigs and earrings to play Netta's lady friends, they are totally unconvincing. That may be the intended effect, but it's also not as funny as it's probably supposed to be. More legitimate comic relief is provided by Linda Marie Larson as Netta's boss.
Production values are first-rate, including Emily DeAngelis' costumes and Hillary Charnas' sound. The set of paneled scrims, designed by Jim Findlay, effectively takes on the colors of Stephen Arnold's mood-setting lighting. They all aid in defining Oswald's resonant story, which comes vividly alive despite its poetic pretensions.
Presented by New Georges at HERE, 145 Sixth Ave., NYC. Oct. 10-29. Wed.-Mon., 8:30 p.m. (212) 352-3101 or www.here.org.