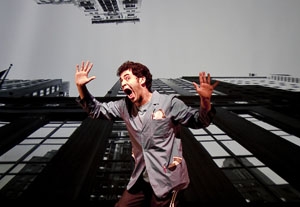 Parallel Exit's productions typically feature deft physical comedians performing mime, slapstick, and vaudevillian clowning in hilarious performances inspired by the great silent-film comics. The company's latest outing, however, the wordless musical "I Love Bob," employs a cast of dancers rather than clowns and is short on skillful physical comedy and long on choreography that tries too hard to amuse. While the humor often descends into the realm of fart jokes and disgusting physical references, on occasion it soars into winsome parodies of Hollywood movie-musical dancing.
Created by its composer, Wayne Barker; its choreographer, Ray Hesselink; and its director, Mark Lonergan, the show is a broad, bitingly satiric superhero comedy about a naive, goodhearted dork named Bob. A Fed Ups deliveryman, Bob winds up saving the Statue of Liberty from being taken over by the hateful real-estate mogul Libby T. Grump and in the process finds true love with the landmark's homely cleaning lady. Set to an exciting Broadway-style instrumental score by Barker (the Tony-nominated composer of "Peter and the Starcatcher"), the production works best when it lets its cast of fine terps dance rather than engage in exaggerated pantomiming. As Bob, expert tapper Ryan Kasprzak is most endearing when he expresses his emotions through his feet, tapping out agitated, mournful, and joyous rhythms with a natural spontaneity. In a romantic pas de deux in the park, Kasprzak spoofs Gene Kelly with amusing accuracy.
With all its references to well-known dancers and dance numbers, "I Love Bob" makes for a great game of "name that influence." It opens with a bustlingly choreographed New York City street scene reminiscent of the vignette-driven Michael Kidd ballet "Runyonland" that opens "Guys and Dolls." There's also a country-flavored square dance that references "Seven Brides for Seven Brothers" and a bang-up finale that has the entire ensemble tapping furiously, a la "42nd Street."
Yet while the proceedings are lively, fun, cleverly topical, and enhanced by video containing striking black-and-white photographic images of New York (by Ron Amato), for the most part the show isn't terribly funny. But I'm not sure that's the fault of anyone involved in this production. Though intended to amuse, the musical's smart commentary—on the current state of the economy, the Wall Street crisis, foreclosures, the brutal employment situation, the "one percent," and those greedily benefiting from the financial meltdown—hits too close to home. Is it even possible to make audiences laugh about such things right now?
Presented by Parallel Exit, Jason Martin, Christopher Mirto, and Leah Wagner-Stout at Joyce SoHo, 155 Mercer St., NYC. July 21–29. Thu.–Sun., 7:30 p.m. (212) 242-0800 or www.joyce.org.