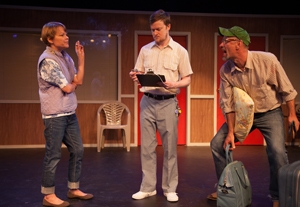 "Motel Cherry," the third and final play in Clubbed Thumb's Summerworks 2012 festival, is in part an updated and downsized American version of the 1932 movie "Grand Hotel," the Oscar winner about the intersecting lives of a hotel's guests, in which Greta Garbo famously utters the line "I want to be alone." But Peggy Stafford's new play does more than just mix and match guests in a motel in a remote area of Washington state. The nine actors also double as animals, inanimate objects, and characters straight out of unfamiliar fairy tales.
Albert (Steven Boyer), the manager who inherited the Motel Cherry from his mother, introduces each of the guests to their rooms and to the audience. There is Mrs. Johnson (Linda Marie Larson), a middle-aged virgin who loves animals and fills her room with their cages; John (DJ Mendel), a truck driver who is about to fall off the wagon; his wife, Patty (Monique Vukovic), whom he met at an A.A. meeting and who wants to have a baby, while John does not; Revered Joe (Noel Allain), whose wife, Linda (Francis Benhamou), wants to have sex with him though the pastor does not seem interested; Mark, a traveling copy-machine salesman (Mike Shapiro), who is interested in Linda; Joan (Boo Killebrew), a bruised waitress escaping her abusive boyfriend; and Lynette (Eboni Booth), a high schooler who keeps to herself and groans a lot. We don't learn why she's in pain until the end of the play, in a well-done climactic monologue that serves to unite the rest of the guests.
Most characters have some kind of secret. Most also seem to have their own personal fairy tale, which comes out of nowhere. Mrs. Johnson suddenly talks about the time she brought her horse to Hawaii for a pineapple, and then we see (in an apparent flashback) Mrs. Johnson consulting with a mole about the trip, horse in tow, while a lion narrates. In another scene, a gerbil visits the dentist.
Under Meghan Finn's direction, the acting works better when the performers are playing animals, because as humans they mostly portray what can charitably be called archetypes. Given few layers to play, Mendel is persuasively rough-hewn as John, Larson is daffy as Mrs. Johnson, Allain is distant as Reverend Joe, Shapiro is crude as Mike, etc. The playwright drops hints that the motel manager is not just a motor-mouth but also a stalker, if not an outright pervert (hints of Norman Bates), but Boyer comes off as vague and mild-mannered, nearly a cipher. An exception is Booth, who sheds a real tear as she delivers that final revelatory speech.
There are a few such touching moments, as well as a bit of humor and a few sexy interludes. But little holds "Motel Cherry" together as a single satisfying work. It says something that the most consistent, integrated element in the show is Shane Rettig's impressive sound design. Wait for the descending helicopter.
Presented by Clubbed Thumb and New Georges as part of Summerworks 2010 at Here Arts Center, 145 Sixth Ave., NYC. June 24–30. Tue.–Sun., 8:30 p.m. (212) 352-3101, (866) 811-4111, www.theatermania.com, or www.here.org.