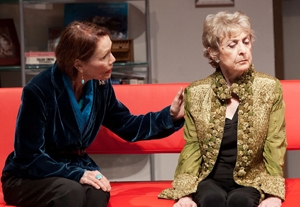 Susan Charlotte's study of three women of a certain age proves to be a sketch instead of a fully created portrait. It is a well-intentioned work that introduces serious issues that women face at various stages in their lives, but after introduction these themes are not sufficiently developed to make a satisfactory drama. This is a pity, for in the cast are two experienced actors of a certain age, Rosemary Prinz and Lois Markle, who, even in these reduced circumstances, persuade with skill and sparkle and clearly would have been able to handle much more demanding material.
The 70-minute piece, directed by Antony Marsellis and Christopher Hart, is set in a luxury apartment in midtown Manhattan (James Wolk's elegant design), and has four scenes. The first is Thanksgiving, 2010, and we meet Sylvia (Rosemary Prinz) and Dottie (Lois Markle) in a conversation that immediately troubles Dottie. At the scene's end we learn that the two women are sisters-in-law but Sylvia in her newly-developed dementia does not recognize Dottie. For the second scene we flashback to Independence Day 2010, which shows Sylvia and Dottie both in full throttle of their respective design careers: Sylvia creates dresses for large women to make them look smaller, Dottie takes small spaces and makes them appear larger. (Obviously Sylvia's decline from July to November has been a rapid one.) As this scene ends we learn that Dottie may have breast cancer.
Then jumping forward again to Valentine's Day, 2011, we are introduced to Sylvia's daughter, Julia (Drena De Niro). Though only 41, she too is a woman of a certain age with a problem. Julia's career as a journalist has suffered because of her love for a noted violinist, Jim (Robert Newman), who travels the world with Julia following. And the problem? Jim will not commit. In this overlong scene, which is replete with cliches, underwear-clad Jim only utters the words "Come on" in a hundred different variations -- later we learn that this is a two-word game the lovers play. Julia finally walks out on Jim.
The final brief scene, a few hours later, finds a bewildered Sylvia talking sweetly to a fully-dressed Jim, observed by Julia who has returned. This, of course, should have been the scene that tied all the characters and themes together, but here playwright Charlotte balks. This unsatisfactory finale shortchanges both the characters -- and the audience.
Prinz and Markle create nicely contrasting characters, both elegant and winning. Sad we are not allowed to get to know them better. With them we feel in safe hands, for clearly on display is talent of a certain age.
Presented by Cause Celebre in association with Mary J. Davis at the Beckett Theatre, 410 West 42nd St., NYC. May 20-June 10, 2012. Wed.-Sat., 8 p.m.; Wed. and Sat., 2 p.m.; Sun., 3 p.m. (212) 239-6200 or www.telecharge.com.