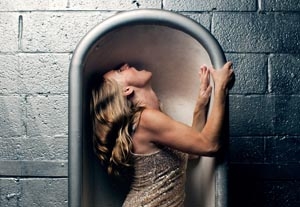 "A short span of time is measured to each of us," says Raïna von Waldenburg during the opening of her one-woman show "Oysters Orgasms Obituaries." She is quoting from an old German saying, leaving the obvious rejoinder unspoken: What we choose to do with that time is critical. The three stories von Waldenburg recounts in the work all nominally cover "taboo" subjects: filicide, pedophilia, and graphic sexuality. But at their core they touch on what is perhaps the central problem of existence: parents' relationships with their children and the tensions in that potent cocktail of love and aggravation.
Von Waldenburg, who teaches drama at New York University, begins the performance like she might begin a lecture for her college students. She greets audience members as they arrive, sometimes by name, discusses aspects of the production, and provides some pedagogical anecdotes.
But gradually the lecture takes on a different tone, and von Waldenburg herself assumes a different character: an anger-management instructor for mothers who seek to channel their feelings of frustration into something more constructive. In this guise, she relates the story of Andrea Yates, the infamous Texas housewife who drowned her five children in the bathtub in 2001. From there, she becomes a German grandmother who defends her husband against charges of pedophilia. Finally, she tells her own story of childbirth and motherhood, a tale that has been running through the others.
The effectiveness of von Waldenburg's performance is that she is never far removed from the stories she recounts. It's hard to tell where she ends and the character begins, because she is always a part of the tale—at first only tangentially, as a fellow frustrated mother, then as the self-described victim of sexual abuse, and finally as the subject of the story itself. She makes the viewers very conscious of the reality they inhabit together, then weaves in and out of that space, transforming it with each of the three narratives.
Always in motion, von Waldenburg's show is a sensory overload: She offers live oysters for audience members to taste; the smell of French toast wafts through the air; jazz mingles with news clips over the speakers. Some of these experiences the audience participates in vicariously, such as when we watch a nude von Waldenburg rolling around orgasmically, in both pain and pleasure, on a bed of black sand that surrounds the stage.
These prolonged periods of naval-gazing periodically cause the production to lag—particularly a repeated sequence in which von Waldenburg wends her way about the spare set forlornly—but she and director Zishan Ugurlu largely manage to avoid the perilous trap of self-involvement. There's a cathartic element to "Oysters Orgasms Obituaries," clearly for von Waldenburg herself but for the audience as well. She says that her classes help her students "channel all the voices they have inside them," but here she is the student, channeling stories of motherhood that because of their explicit nature rarely get to be told. "I am changed," she says at the end of the evening, and she leaves the audience changed as well.
Presented by La MaMa ETC, in association with the Center for Embodied Performance, at La MaMa ETC, 74A E. Fourth St, NYC.  Dec. 4–18. Thu.–Sat., 7:30 p.m.; Sun., 3 p.m. (212) 352-3101, (866) 811-4111, (212) 475-7710, www.theatermania.com, or www.lamama.org.