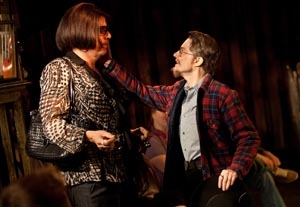 The musical "Southern Comfort" is an interesting conundrum. Dan Collins and Julianne Wick Davis' bluegrass-infused score provides generally easy listening, but the story of a community of transgender individuals in Georgia is hard to hear at times. The complicated characters evoke sympathy, but they never get beyond their sexual identity. As they continually beg for acceptance, their plea starts to sound like a broken record.
The story isn't uninteresting, though. Based on Kate Davis' Sundance documentary of the same title, the show follows the struggle of patriarch Robert Eads, a female-to-male transsexual suffering from ovarian cancer. Annette O'Toole undergoes an impressive transformation to play Robert, who can't find a doctor to treat his condition until it's hopeless. However, the book focuses more on Robert's relationship with Lola Cola (Jeff McCarthy), a drag queen contemplating the transgender leap. Robert introduces Lola to his "chosen family," a group of mainly transsexuals in Toccoa, Ga., at a typical Sunday gathering at his house (the appropriately rustic set is designed by James J. Fenton). Initially, they turn out to be just as judgmental of Lola for not fully committing to the gender transformation as conventional society is of them for their own choices. Robert wants to take Lola to Atlanta for the Southern Comfort Conference, an annual transgender community gathering, but Lola and Robert's circle hesitate because of her state of transition.
O'Toole and McCarthy are the only actors who gender-bend for the production; the other actors play their characters in their desired state. Director Thomas Caruso and casting director Geoff Josselson wisely cast smaller-framed men and a broader woman so they're believable as transgender individuals. As Maxwell and Cas, however, Jeffrey Kuhn and Todd Cerveris struggle slightly to sing in higher registers. O'Toole, whose performance is laudable, sings in a raspy tone, and this works for her character's dire medical condition. As Cori, a male-to-female transsexual who is dating Maxwell, Natalie Joy Johnson has a powerful low belt, highlighted in the upbeat "Walk the Walk."
The musical succeeds in conveying the characters' personal narratives, which are expressed through soliloquy songs. McCarthy's balladic turns in "Bird" and "Two Hundred Miles" are pure joy to listen to. The cute song "Women" is entertaining, as Maxwell and Cas sing about "Women, Lord, they were never this way back when I used to be one" as if the subject were one that could be taken lightly. The more sensual duet between Maxwell and Cori, "Places That Aren't Even There," deals with sexuality and gender in a creative, though less comical, way. The five-person band—four of whom act as storytellers—sings transitional interludes and also provides harmonies for certain songs.
Caruso treats the subject matter gently and generates chemistry among his actors, but sometimes the issues feel repetitive. Robert argues that gender is what's inside, not what's between the legs, but I wish the musical had a few more facets.
Presented by the CAP21 Theatre Company at the CAP21 Black Box Theatre, 18 W. 18th St., NYC. Oct. 6–29. Wed.–Sat., 7 p.m. (866) 811-4111 or www.cap21.org. Casting by Geoff Josselson.