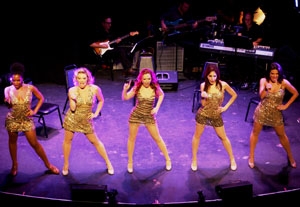 The musical talent displayed by the five women on stage in "Tour De Fierce" is dazzling. And that may be an understatement. Collectively, the five are known as The Broadway Dolls, a group formed in 2007 by Hollie Howard, a performer who, according to the group's website, was "frustrated by a lack of strong and compelling roles for women in musical theater." The quintet have performed around NYC and even gone overseas, and this is their most ambitious outing yet. The range of material—stemming from "Annie Get Your Gun" to "Spring Awakening"—may belie Howard's frustration; there seems to be plenty of robust female musical characters in tuners. The show, however, leaves no doubt that these five women love what they're doing, right down to the bottom of their souls, to paraphrase a line from one of the several numbers excerpted from "A Chorus Line." 
In addition to Howard, the company includes Tracee Beazer, Tracy Jai Edwards, Robyn Hurder, and Gabrielle Ruiz. They are all sensational dancers and singers, able to bring compelling emotional underpinnings as well as deliciously comic insights to their work. The show, conceived by Howard and Joey Murray, gives them an immensely entertaining concert-style showcase, with ear-filling arrangements by music director David Kreppel and eye-filling choreography by Jordan Fife Hunt.
Murray also directs; the piece, running about two hours with intermission, has been deftly assembled. There's not a lull, from the opening, a harmony-rich blending of Kander and Ebb's "New York, New York" with Billy Joel's "New York State of Mind," to the rousing closer "Don't Stop Believin'." Of course, none of these particular songs is from Broadway, but show fans won't be disappointed. There are several extended medleys of Main Stem hits. One such section serves as a sort of collective résumé for the five, each singing and dancing bits from shows they've appeared in, and it ends with a quietly triumphant rendering of "What I Did for Love."
The four-piece band provides solid accompaniment, augmented at times by recorded disco-infused music. Jodi Fried's spangle-bedecked costumes, and the shifting moods of Sharp Edge Lighting Design add to the inherent glamour. The Broadway Dolls call themselves "the official girl group of Broadway," and they indeed make delectable ambassadors for the musical side of the Great White Way.
Presented by Hollie Howard as part of the New York Musical Theatre Festival at the 47th Street Theater, 304 W. 47th St., NYC. Oct. 13–16. Remaining performances: Fri., Oct. 14, 8 and 11 p.m.; Sat., Oct. 15, 1 p.m.; Sun., Oct. 16, 5 p.m. (212) 352-3101 or www.nymf.org. Casting by Hollie Howard.