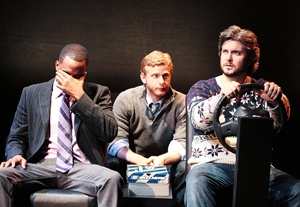 They say that men have a hard time expressing their feelings, but you wouldn't know it from the heart-on-sleeve trio at the center of Joseph Gallo's buddy comedy "Two-Man Kidnapping Rule." Jack (Curran Connor) at least has some good reasons to be depressed: He's a former college football star who never quite made it to the big time, his adored girlfriend Laura left him for a Dallas Cowboy, and he lives in New Jersey.
Jack can't stop thinking about Laura and spends an unhealthy amount of time obsessing over a box of mementos from their relationship. His alternately cynical and vulnerable friend Vincent (Duane Cooper) thinks a night out with the boys might be just the thing to blast Jack out of his funk, so they pick up the goofy Seth (Andy Lutz) and set out for an evening of male bonding. The title refers to a pact they made years earlier, to the effect that any two of them can prevent the third from doing something that is not in his best interest. Ultimately, the rule hinders Jack from following through on his harebrained scheme to drive to Texas and look for Laura.
Jack's mopey obsessiveness could be irritating with the wrong sort of actor in the part, but Connor's agreeably bearish presence invests the character with a certain sad-sack charm. The play as a whole is similarly companionable and easy to take, if rather conventional. Although the jokes are rooted firmly in the characters and avoid being too obvious, Gallo's dialogue is a bit too thought out and on the nose to be fully believable as male banter. Nor does the story offer any real surprises. We're invested enough in the characters to want to see them taken in a more offbeat direction, but they end up pretty much where you'd expect.
Presented by and at the New Ohio Theatre, 154 Christopher St., NYC. Nov. 5–20. Thu.–Sat., 8 p.m.; Sat. and Sun., 3 p.m. (212) 868-4444 or www.smarttix.com.