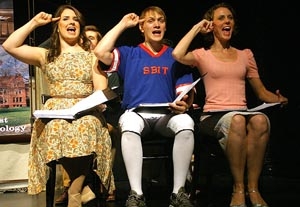 Minimally rehearsed concert stagings of obscure musicals can be a dicey business. So much can go so wrong, and soon the center cannot hold. Such is the case with "All American (in Concert)," a shaky, unfocused, poorly adapted, and woefully miscast attempt at this fast 1962 Broadway flop from the top-drawer quartet of book writer Mel Brooks, composer Charles Strouse, lyricist Lee Adams, and director Joshua Logan. Some of the problems will undoubtedly be ameliorated as the actors gain experience performing the show, but I fear too much is wrong for the production ever to come together satisfyingly.
A genial satire of what it means to be an American, based on the novel "Professor Fodorski" by Robert Lewis Taylor, the story follows the adventures of the novel's title character, a Hungarian engineering teacher who has immigrated to America to take a job at the Southern Baptist Institute of Technology. Scholarly and shy, Fodorski longs to be liked. After initially failing to connect with his students, everything changes when he turns the football team into winners by teaching them to apply engineering principles to the sport. In particular, young Edwin Bricker discovers that thanks to the professor he can now kick 85-yard field goals.
Both Bricker and Fodorski quickly become adulated celebrities, and school life is turned upside down, to the distress of the school's prim female dean, Elizabeth Hawkes-Bullock, who has been conducting a tentative romance with Fodorski. With the assistance of Susan Piedmont, Bricker's lustful but now-ignored girlfriend, the dean hatches a plot to vamp the boy in his dorm room and get caught, causing him to be thrown off the team, which will then lose the championship bowl game, pricking the sports-mania balloon and forcing everyone at school to return their attention to academics.
Brooks fails to ground his scattershot story in anything approaching believability and, as more than one critic at the time noticed, tries to satirize so many things that he winds up canceling himself out. Strouse and Adams provide some nifty songs (and a few clunkers), but they are still learning how to write for story and character, so most sound like revue numbers. Even the show's one hit, the lovely and wistful "Once Upon a Time," sung by our two middle-aged would-be lovers, is a bit generic, having been written for a summer musical revue in the Catskills. As a result, the show never manages to gain any narrative momentum, instead lurching from this bit to that bit like a drunk with A.D.D.
Director-choreographer Thomas Sabella-Mills compounds the problem with two unfortunate choices: He restores "Back to School Again," a number cut during the show's out-of-town tryout, while excising Fodorski's crucial establishing song, "What a Country!." "School" is an unfunny one-joke stage wait in which the students pretend to be thrilled about returning from summer vacation. The loss of "Country" hurts even more. Sung as Fodorski travels by bus from New York City to his job, it documents his falling in love with his new country, something that fuels his desire to be accepted in America and become a citizen. It is so important that the authors reprise it as the triumphant first act finale, which is left in place but now lies there like an inexplicably severed limb.
Sabella-Mills has also made damaging casting errors. Matt Wilson and Kate Marilley, as Fodorski and Elizabeth, though both talented and capable performers, seem barely older than their students. The generational contrast is gone, and with it most of whatever emotional heft the show once had. Worse, the part of Fodorski was built on vaudeville song-and-dance man Ray Bolger, but Wilson, though limber, is no dancer. Moment after moment created for Bolger goes unrealized, with no adequate substitute found. And when Elizabeth seduces Bricker in "The Real Me," Marilley comes off like the sexy 30ish trained dancer she is rather than a repressed middle-aged intellectual arduously busting loose.
Jessica Wagner errs on the side of lust in her portrayal of Susan, seemingly unaware that it needs to be filtered through a period innocent-ingenue sensibility. It's that contrast that is meant to be funny. Sean Bell makes a similar error, playing Bricker strictly as a somewhat fey comic supporting role without a hint of strapping romantic leading man in it. Nevertheless, Bell at least consistently nails his laughs.
The staging leaves music director David B. Bishop stuck contributing too much fuzzy vamp-till-ready underscoring that only drains the proceedings of energy. There are some moments, such as when the students discover en masse that "It's Fun to Think," when stylized musical-comedy giddiness happily rears its head. Alas, they are too few and far between to save "All American (in Concert)." 
Presented by Musicals Tonight! at the Lion Theatre, 410 W. 42nd St., NYC. Oct. 25–Nov. 6. Tue.–Sat., 7:30 p.m.; Wed., Fri., and Sun., 2 p.m. (212) 239-6200, (800) 432-7250, or www.telecharge.com. Casting by Stephen DeAngelis.