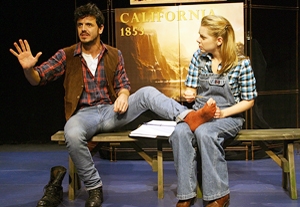 The Obie-winning Musicals Tonight! is pulling off a small coup with its sensitive concert staging of Alan Jay Lerner and Frederick Loewe's gold-rush musical, "Paint Your Wagon." This intimate, piano-only presentation locates the romantic heart of this sprawling show and sets it to furiously beating life.
Director Thomas Sabella-Mills wisely avoids any attempt to find an equivalent for the original's panoramic size, with its Agnes de Mille dances, yards of impressionistic scenery, and choral throngs of miners and dance-hall girls. Smartly, he goes about doing what all good concert versions should do: convey the essence of the show without pretending to be a real production. What emerges is surprisingly playable.
Lerner was never happy with his original story and script. During the 1951 out-of-town tryouts in Philadelphia and Boston, he did considerable rewriting, deeming the show too serious and realistic. When the national tour was mounted, he rewrote again, changed the opening number, and even added a new song. In 1954, he wrote a fascinating screenplay version that reoriented the story to focus on racial prejudice. And, of course, for the 1969 film he threw the whole plot out and used a new one dreamed up by Paddy Chayefsky.
Musicals Tonight! is using an amalgamation of the Broadway and national tour scripts. It tells the story of grizzled prospector Ben Rumson, born under a "Wandrin' Star," as one of the show's most famous songs puts it, and his daughter, Jennifer, who is blossoming into womanhood. Ben strikes it rich in the opening moments of the musical, and soon Rumson Creek is born, a town that quickly grows into a bustling Western metropolis complete with all the usual vices. Jennifer is attracted to Julio, a Mexican miner, but they keep the relationship secret, fearing a prejudiced reaction. Will Ben be content to finally settle down? Will Jennifer and Julio be able to marry? These are the questions that drive the show.
The love story is not particularly original, but it nevertheless plays well here, due to the fine work of Jillian Louis and Jaime Zatarain. Louis can belt beguilingly but also employs a lovely mix that makes moments like her quiet reprise of "I Talk to the Trees" pure pleasure. Her acting is simple and direct, finding unexpected emotional range in this uneducated but goodhearted country girl. Her way with a lyric is a joy. Zatarain, a recent AMDA graduate, is a major find. He acts with authority and emotional acuity, brims with intelligence, and sings beautifully. His proud Julio is the highlight of the evening.
Though Ben's story lacks sufficient narrative drive, Lerner succeeded in creating a whacking star part, and it has always attracted them: James Barton and Eddie Dowling on Broadway, Burl Ives on tour, Bobby Howes (opposite daughter Sally Ann) in London, and Lee Marvin on film. Paul Carlin shows a canny understanding of the role's size and delivers a robust performance, commanding the stage with every appearance. During his haunting rendition of "I Still See Elisa," you could have heard a pin drop.
The rest of the young company sings and acts with brio under James Stenborg's careful musical direction. Sabella-Mills makes a misstep by pushing a small subplot about a polygamous Mormon and his wives too hard, thereby squelching the comedy, but the flaw is hardly fatal.
This is a rare opportunity to hear the glorious Lerner and Loewe score in its proper context, including significant material that's never been recorded. Whatever the book's flaws, the score supports the story and characters with great skill. Fans of the classic integrated musical play will not want to miss "Paint Your Wagon."
Presented by Musicals Tonight! at the McGinn/Cazale Theatre, 2162 Broadway, NYC. Oct. 20–Nov. 1. Tue.–Sat., 7:30 p.m.; Wed. and Fri., 2 p.m.; Sun., 3 p.m. (212) 579-4230 or www.iseats.net. Casting by Stephen DeAngelis.