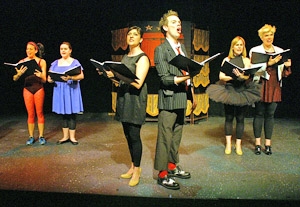 If all the world's a stage and all the men and women merely players, it has never been more apparent than in "Stop the World—I Want to Get Off." The classic musical, revived in a concert staging by Musicals Tonight!, presents life as a circus act that is high on fun and games and low on substance.
"Stop the World," which debuted in 1961 in London and opened at the Schubert Theatre in New York a year later, follows the existence of a perfectly unremarkable fellow. Littlechap (Matt Wilson), the everyman, moves through birth, adolescence, marriage, business success, family troubles, political careers, twilight years, and death all in the span of a few hours. The stage here is bare, and thank goodness, because otherwise there would be a lot of set changes.
The frantic pace of the show is its first failing. Though we get a fleeting glimpse, we never clearly see what makes Littlechap tick. His relationship with Evie (Stephanie Sine), whose Biblical name is another hint at the couple's universality, is seen in snapshots: first seductive, then estranged, then romantic. Although their bond is the musical's theoretical driving force, it is too disconnected to serve as such.
Far more entertaining are Sine's lightning-quick transformations into Littlechap's various sexual conquests. The women we meet through Littlechap's far-flung affairs are stereotypical exaggerations of the nations they represent: the German loves sauerkraut and celebrates Hitler's birthday, while the Russian speaks only anti-capitalist propaganda. Although the script shows its age here, director Thomas Sabella-Mills remains true to the original period, preserving quite a few stale gags in the process.
These jokes too often extend to musical numbers, many of which are based on one gimmick; the words of one song are almost entirely spelled out letter by letter, but why? Leslie Bricusse and Anthony Newley crafted a few gems: the moving "What Kind of Fool Am I?" was an instant hit after the show's premiere, recorded by Shirley Bassey and James Brown. But Wilson approaches every number with the same speak-singing routine that continues well into the meat of the song; by the time he comes into full voice and emotion, it's already over.
Wilson, who works with the Big Apple Circus, is a likable little chap whose clowning around matches the madcap nature of the musical. While entertaining in snippets, both are begging for a little less frenzy and a little more feeling.

Presented by Musicals Tonight! at the McGinn/Cazale Theatre, 2162 Broadway, NYC. April 13–25. Tue.–Sat., 7:30 p.m. Wed. and Fri., 2 p.m.; Sun., 3 p.m. (212) 579-4230 or www.iseats.net.