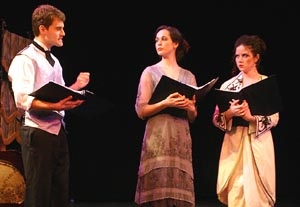 The West End debut of noted Welsh songwriter and actor Ivor Novello (he's the chap playing the piano in "Gosford Park"), "Theodore and Co." opened in 1916 and ran for 503 performances. That means it's taken the show 95 years to cross the pond. The founder of Musicals Tonight!, Mel Miller, ran across the score in a London shop and, charmed by the lyrics, tracked down the script in a London library. The company's willingness to produce such arcane titles is one of the things that make it a valuable theatrical institution. Alas, a forgotten gem does not emerge in director-choreographer Thomas Sabella-Mills' rather scattered concert production. Mostly, it's clear why no American producer brought this twee exercise over back in the day. It's just too bloody English.
The show opens at the Duke of Shetland's house on Hyde Park Corner in London, where that gentleman has invited a host of friends to observe a passing parade for the Emir of Baluchistan. The gentry, however, are mixing with the hoi polloi, because the duke's nephew, the charming but penurious Lord Theodore, instead of asking his upper-class friends, has sold tickets to anyone who can pay. In a tangled thicket of exposition, we are introduced to the widowed duke, his daughter Pansy, Theodore, the unhappily married Lord and Lady Wye, the equally unhappily married Mr. and Mrs. Blisset, an Italian gigolo named Cosmo, and Theodore's friends Pony, Crump, Alma, Cleo, and Fudge, a sort of Baker Street Irregulars who help Theodore run his business as a "social facilitator.... We find mourners for funerals, witnesses for registry marriages, co-respondents for divorces, and guests for Emir processions." They are also, conveniently, performers at the Casino Musical Hall.
In the main plot, Pansy, whom Theodore loves, has been a bit wild and consorted romantically in a punt with Cosmo. When a photograph of them accidentally falls into the hands of the duke, Theodore convinces him that the woman in the picture is the fictional Baby Grand, purportedly a well-known entertainer, not his daughter. But the duke insists on seeing her perform, of course, which leads to elaborate subterfuges. A subplot involves Mrs. Blisset and Lord Wye seeking to consummate an affair. Of course, the members of Theodore and Co. are involved in all the shenanigans.
Novello was engaged in war work at the time he wrote the show and found it difficult to meet his deadlines. As a result, Jerome Kern contributed four tunes (including recycling a melody from "Very Good Eddie" for the 11 o'clock ballad, "All That I Want Is Somebody to Love Me"), and English songwriter Philip Braham added two more. Clifford Grey and Adrian Ross wrote all the lyrics, which do have their charms but are often far too busy for their own good. As for the music, Kern's work is clearly the best, but the score suffers mightily from never meeting a major chord it didn't like.
The eager and engaging 21-member company varies in its ability to deliver authentic Englishness, and even Sabella-Mills' direction seems unsure at times whether something is satirical or sincere. Among those who manage to rise above the general muddle and make an impression are Kevin Greene, a debonair Theodore, and Annemarie Rosano, a poised and period-appropriate Pansy. Michael Fitzpatrick gives the duke the requisite sangfroid, Keith Herron tosses off a music-hall turn nicely as Crump, David Sattler oozes effectively as Cosmo, James Beaman is a suitably randy Lord Wye, and Melissa Bohon puts the "p" in pert as Fudge, scoring with her specialty number "My Friend John" (which was sung by a man, Leslie Henson, in the original production).
Novello went on to a great career, writing hit after West End hit, mostly in a sentimental operetta vein, and becoming a matinee idol. None of his shows duplicated their success in America, however, and "Theodore and Co. (in Concert)," though interesting as a curio, doesn't change that. 
Presented by Musicals Tonight! at the McGinn/Cazale Theatre, 2162 Broadway, NYC. March 15–27. Tue.–Sat., 7:30 p.m.; Wed. and Fri., 2 p.m.; Sun., 3 p.m. (212) 579-4230 or www.iseats.net. Casting by Stephen DeAngelis.