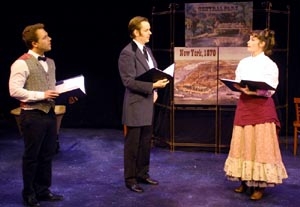 The ensemble singing is the real drawing card of "Up in Central Park (in Concert)," a fine script-in-hand rendering of the melodious 1945 hit musical, with book by Dorothy and Herbert Fields, lyrics by Dorothy Fields, and marvelous music by Sigmund Romberg. Under the musical direction of vocal arranger James Stenborg, the show's grand group numbers are performed with a resplendence that always leaves you wanting to hear a few more choruses. And it is primarily in these ensemble songs that one hears echoes of Romberg's sublime music for "The Student Prince."
Set in New York City in the early 1870s, the musical is a love story involving John, a New York Times writer exposing the corruption of the Tammany Hall Tweed ring, and Rosie, the daughter of a park superintendent who is a beneficiary of Boss Tweed's fraudulent rebuilding of Central Park. Scott Guthrie brings a scornful attitude to his portrayal of John, which works well for the investigative-reporter aspect of the character but undermines his convincingness as a man in love. It is only when he sings that one believes he has feelings for Rosie. With her comely, expressive face, Natalie Newman makes a beguiling Rosie despite her unfocused singing voice, which scatters sloppily in its upper range.
The production's most skillful solo singing comes from Chelsea Barker, in the role of Bessie, Rosie's social-climbing sidekick. Barker moves easily from deep chesty sounds to brassy belting and crystalline high notes, all the while using her wide musical palette to underline the meaning of the words she's singing. Acute acting skill is displayed by Kari Ringer in the small role of Lotta, a jilted, jealous member of the Tweed circle.
Proficiently directed and choreographed by Thomas Sabella-Mills, the romantic musical also offers two sturdy comic performances by Richard G. Rodgers and John Alban Coughlan (as the fathers of Rosie and Bessie) and a commanding depiction of Boss Tweed by Peter Cormican. The only weak link is Travis Morin, who plays another of the musical's real-life characters, the famous caricaturist Thomas Nast. Ironically, Morin's bizarrely detached, sarcastic portrayal of Nast comes across as a caricature of a bad actor.
Presented by Musicals Tonight! at the McGinn/Cazale Theatre, 2162 Broadway, NYC. March 29–April 10. Tue.–Sat., 7:30 p.m.; Wed. and Fri., 2 p.m.; Sun., 3 p.m. (212) 579-4230 or www.iseats.net. Casting by Stephen DeAngelis.