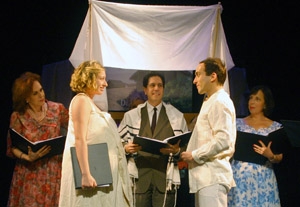 "Milk and Honey" was Jerry Herman's first book musical on Broadway, presented exactly 50 years ago— seven months before the first Broadway musical featuring both music and lyrics by Stephen Sondheim,  "A Funny Thing Happened on The Way To The Forum."  That "Milk" is far less known now is no miscarriage of justice. The libretto by Don Appell about Americans finding love in Israel has not aged well. But its relative obscurity makes this an ideal choice for Musicals Tonight!, now in its 14th season of presenting staged concerts in the matter of the slightly older and more plush—and also less intimate and far more expensive—Encores! series at New York City Center. Musicals Tonight! Stagings feature a lone piano player, virtually no sets, minimal choreography and costumes, and the cast reading from scripts held in black binders.
The biggest revelation of "Milk and Honey" is the score from the man who would go on to compose  "Hello, Dolly!", "Mame," and "La Cage Aux Folles."  None of the dozen or so songs of "Milk and Honey" became hits, and it is true that a few seem like first drafts of the songwriter's more memorable later work. But Herman, who traveled to Israel to get inspiration for the musical, clearly found it there. The tunes are both mellifluous and surprisingly varied. One character, called only "Arab boy" (Yaniv Hadad), does little else in the musical besides sing a song simply called "Arab Song," with lyrics in Arabic. It is brief, inflected by Middle Eastern music, completely lovely, and for some reason, absent from the original cast recording. There is a hora called "Independence Day." A ballad, "I Will Follow You" sung by a sabra (Michael Mott), a Jew born in Israel, to his homesick American wife (Yael Gonen), could have been sung by a cantor.
To hear the competent 11-member cast deliver these songs would have been enough. But "Milk and Honey" can fruitfully be viewed as an exercise in cultural anthropology. It offers a glimpse of  "Mad Men"-era views on the state of Israel as well as the state of marriage and morality. Much of the plot is really only tolerable when viewed as a cultural artifact. Ruth (stand-out Barbara McCulloh) is on a tour of Israel with a group of American Jewish widows when she meets Phil (Richard White), another American who is visiting his daughter, who has married a native Israeli. Love between Ruth and Phil ensues, but there is of course an obstacle—Phil is married, to a woman who doesn't love him, hasn't lived with him for 20 years, and, most evil of all, lives in Paris.
The original Broadway production at the Martin Beck (now the Al Hirschfeld) featured Molly Picon in the role of a marriage-hungry Jewish widow (her big songs: "Chin Up, Ladies" and "Hymn to Hymie"), and included some live sheep and a goat that was milked on stage. Musicals Tonight! makes up for its lack of  Yiddish theater stars or bleating props by allowing its audience to see how much public attitudes and Jewish humor have evolved in the past half century.
Presented by Musicals Tonight! at the Lion Theatre at Theatre Row, 410 W. 42nd St., NYC. Oct.11-23. Tue.-Sat., 7:30 p.m.; Wed., Fri., and Sun., 2 p.m. (212) 560-2186 or www.musicalstonight.org. Casting by Stephen DeAngelis.