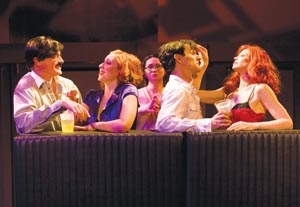 These artists are by no means newcomers to the scene, but they've carved such fascinating and unique niches in their fields and brought such interesting actors to their projects that Back Stage feels you should get to know them. We've selected five film directors, three stage directors currently working in New York, and two stage directors currently working in Los Angeles.
FilmCraig Gillespie
A respected commercial director before breaking into films and television, Gillespie has all but disavowed his directorial debut, "Mr. Woodcock," after the studio took the film away from him. So let's consider his first film "Lars and the Real Girl," a story about a timid man who develops a relationship with a doll. What could be ridiculous or just downright creepy turned out to be one of the most touching films of 2008. Gillespie proved that his sensitive hand with difficult material was no fluke, helming four episodes (including the pilot) of Showtime's multiple-personality dramedy "United States of Tara."
Bobcat Goldthwait
Yes, that Bobcat Goldthwait. The screeching comedian from so many very bad 1980s movies has turned out to be a very good director and one of the most fascinating
independent filmmakers in recent years. His film "Sleeping Dogs Lie" took a lowbrow premise—girl confesses she once had relations with a dog—and proved to be an insightful treatise on relationships. But his latest film, "World's Greatest Dad," which premiered at this year's Sundance Film Festival to enthusiastic crowds, accomplishes the near-impossible feat of putting Robin Williams in an outrageous comedy that doesn't permit him to fall back on mugging or pandering. Reining in Williams is a task at which bigger directors have failed, but Goldthwait draws out one of the comic's best performances in years.
Courtney Hunt
With her 2008 feature directorial debut "Frozen River," Hunt told a deceptively simple tale—about a single mother (Melissa Leo) who turns to people smuggling—without ever veering into movie-of-the-week territory. Hunt fights for what she wants; several companies offered to make her film but only if she cast someone else in the lead. Leo's beautiful, heartbreaking turn speaks for itself—but her Oscar nomination for best actress was a nice bonus. Next up for Hunt: an adaptation of the Willy Vlautin novel "Northline," a drama about a woman who has imaginary conversations with Paul Newman.
Rebecca Miller
The daughter of Arthur Miller, Rebecca's films never fail to offer beautifully nuanced roles to underrated actors. In her feature debut, 2002's "Personal Velocity" (based on her book), she wrote three wonderful roles for Kyra Sedgwick, Parker Posey, and Fairuza Balk. The actors rewarded her with career-making performances. In "The Ballad of Jack and Rose," she had the benefit of directing her husband, the always-brilliant Daniel Day-Lewis. But she also discovered the ethereal Camilla Belle, who has since forged a promising career, and gave Paul Dano one of his best early roles. We can't wait to see what she has in store for the likes of Robin Wright Penn, Maria Bello, and Winona Ryder in the upcoming "The Private Lives of Pippa Lee."
Edgar Wright
Though an accomplished director of TV ("Spaced") and movies ("Shaun of the Dead," "Hot Fuzz") in his native England, Wright has yet to achieve major stateside notoriety. With four films currently in various stages of development—including the upcoming Michael Cera–starrer "Scott Pilgrim vs. the World"—Wright might soon find himself on the A list. Few auteurs can blend Apatowesque comedy with Tarantino-inspired violence, but Wright creates fascinating hybrids that always entertain. 
New York Stage
Stafford Arima
This Canadian-born helmer attracted a lot of attention with "Altar Boyz," the boy-band spoof still playing Off-Broadway. His West End production of "Ragtime" received eight Olivier nominations. Regionally, he's directed for San Diego Rep, Paper Mill Playhouse, and Goodspeed Musicals. This season he's staging "The Tin Pan Alley Rag" for the Roundabout Theatre Company, and he has served as assistant director on the Broadway productions of "A Class Act" and "Seussical." It's only a matter of time before he's the main man behind a Main Stem musical.
David Cromer
In this past two New York theater seasons, this Chicago-based director has captured the imaginations of Off-Broadway audiences with a startling musical
version of "The Adding Machine" and a heartbreakingly spare staging of everybody's community-theater favorite "Our Town," which is still playing. This fall, he takes on Broadway with revivals of Neil Simon's "Brighton Beach Memoirs" and "Broadway Bound," running in repertory.
Kristin Hanggi
She made her Broadway debut with "Rock of Ages" and though this guilty pleasure received a few critical brickbats, it's a huge hit with theatergoers of a certain age wishing to relive their 1980s days of hard-rock and big-hair bands. Hanggi staged the show in Los Angeles, Las Vegas, and Off-Broadway as well. She knows how to move musical stage action with manic energy and will probably be receiving many offers for future legit tuners of similar high voltage and amps.
Los Angeles StageSimon Levy
Actors around Los Angeles consistently mention Levy when speaking of the highlights of working in theater. The producing director and dramaturge at the Fountain Theatre since 1993, he is respected for directing Tennessee Williams works—famed and obscure—with elegance and precision. Also promoting newer works, he recently helmed Anna Ziegler's science play "Photograph 51," "Master Class," and "Daisy in the Dreamtime." In addition, Levy is a playwright. He adapted and directed "What I Heard About Iraq" and has adapted F. Scott Fitzgerald novels, notably "The Great Gatsby." "I like acting that has strong
objectives/wants, emotional honesty, believable behavior, passion, risk, adherence to the deeper intentions of the author, full of wonder and imagination and layers of inner life," says Levy. No wonder actors love him.
Rick Sparks
He may be "that musical-comedy guy," but Sparks has a sterling reputation for directing, writing, choreography, sound design, and producing. We first noticed him in 2001 for the high-style camp "Down South," then for the spectacular, wrenching "They Shoot Horses, Don't They," followed by straight plays, more almost-cinematic versions of musicals, and this year's talk-of-the-town production of the emotionally charged "Divorce! The Musical."
Says Sparks, "I learned from an amazing teacher who studied with Harold Clurman, 'Even if it means going without food and sleep, always be prepared!' I walk into a rehearsal knowing the heart and geography of the whole show. The trick is to also bring in my Libra's balance—along with my heavy hand, to remain present and open during the rehearsal process to allow the gold of the actor's intelligence and creativity to add to or even slightly shift my preconceived blueprint."