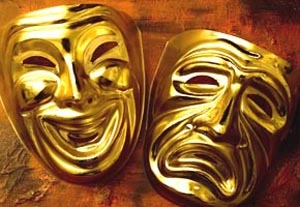 In  the years I've been writing this column, I've always assumed that acting training is an absolute necessity if you want to be an actor. Seems like a no-brainer. You'd want to train for just about any profession you choose, right? But acting is different from other professions, and even other art forms, and Hollywood is different from any other place in the world. Some talented—and not-so-talented—but untrained people do become actors here, especially film actors. But is this a wise path to follow?
What's the Rush?
Los Angeles acting teacher Doug Warhit puts it this way: "You may get in some doors without training if you have a certain look that's extremely marketable. The problem is, once you get in the door, you're not going to get very far." He says a lot of actors with "the look" come to L.A. and get picked up by agencies that send them out on auditions without necessarily having seen their work. But casting directors will quickly spot how inexperienced they are and won't want to audition them again. "Whatever the casting director sees you do," Warhit says, "they assume that's the best you can do."
Many actors arrive with college acting training, he continues, but their experience is mostly on stage, in school productions and so on; they're not up to speed with on-camera work. It's best to develop your on-camera skills for at least a few months before making yourself known to the casting directors in town, Warhit advises: "If you work hard and practice your craft daily, you can grow by leaps and bounds. What's the rush?" (In a recent Craft column, noted Meisner teacher William Esper wrote that it takes two to two and a half years to learn how to act.)
And what exactly is that look that's so marketable you can get an agent and auditions just by having it? First of all, young and hot, says Warhit. Breakdowns often use phrases like "heartbreakingly beautiful." And the expanding Latino market means it helps to be Latino or multiethnic. "Today a lot of Middle Eastern actors are getting a lot of work," he adds, because roles are created based on what's going on in the real world.
New and Green
One young actor I talked to, Ramon Camacho, moved to L.A. from Sacramento, Calif., a few years ago having acted only in high school and a little bit in college. He had no real understanding of the craft but knew he wanted to act—and being Mexican-American, he figured there might be work for him in Hollywood. He didn't know what a breakdown was, didn't even know what a SAG card was; he was just that ignorant, he says. So the first thing he did, in January 2006, was sign up for David Kagen's School of Film Acting, advertised in Back Stage.
By February, Camacho was already sending out his headshot. "I didn't know what I was doing," he says, "but I knew I had to be active." By March he'd booked a nonspeaking role in a music video, then he began doing small community plays. But he faced some pretty harsh criticism and plenty of rejection along the way.
It wasn't until a year later, while still taking classes, that he started to understand the craft. "I learned how deeply personal acting is," he says. He acquired a mentor for a year, Dwight Bacquie, who worked with him 15 hours a week—on voice and monologues—and watched movies with him. Bacquie criticized him heavily at first: "He smashed any bit of ego I had," Camacho admits wryly. "I'd booked a few things, and here he was telling me I was wrong!"
The work proved fruitful. He went on to take classes at Ivana Chubbuck's studio, building on what he'd learned from his mentor. He says he'll return to Chubbuck's studio for more classes at some point. Now he has his SAG card and an agent, expects to get into Equity, and has been going out for "good stuff": TV movies, films, episodics, national commercials. He just closed as the lead in a production at the Celebration Theatre, playing a Puerto Rican hustler from the Bronx, a very hard role. He's learned how to be deeply connected in his acting.
New and Not So Green
So that's one man's story. But I wanted to find out what it was like for someone who, unlike Camacho, arrived with lots of training and experience. Suzanne Voss had studied acting for years with several teachers in the San Francisco Bay Area before moving to L.A. in 2004. She belonged to SAG and AFTRA and had been in a few TV movies as well as a lot of plays. She'd taken a weekend intensive in Northern California with L.A. teacher Kirk Baltz, who encouraged her to move south, saying she was ready. When she arrived, she began taking classes with him and has continued off and on, finances permitting. Now she has a commercial agent.
"My belief is that if you're not working on a project or doing something to keep your muscles in shape," Voss says, "then you need to be in class to keep your skills honed." Since moving, she has also taken improv classes and Margie Haber's cold reading classes. She finds that a lot of casting directors look for recognizable L.A. names on résumés— teachers they know and trust like Haber or Howard Fine, or improv training at the Groundlings or I.O.
The Experts Weigh In
At Martin Casting, which casts mostly commercials, Karen Maseng, who trained in the Meisner technique, says most of the actors she sees have training, in cold reading, voice, movement, commercials, and so on. Her company specializes in actors with comedy, improv, and theater skills. "Theatrically educated people sometimes have a hard time adjusting," she concedes. "Acting is acting, but you have to be fast about it" for commercial auditions. "You're exercising a different muscle." She adds, "On a lot of résumés, you see the Groundlings, names like that, and that helps tremendously."
Theatrical and commercial agent Orion Barnes, of Rogers Orion Talent Agency, writes in an email that about 90 percent of his clients have extensive training, from college degrees to ongoing classes. He guesses that most actors have longer and more-varied careers when they have the benefit of training. "You can have some success based solely on a unique look or attitude without training, especially in the commercial market," he says, "but those careers are usually short-lived and limited to just that 'one trick.' " He had a client who broke in without a single acting class but was smart enough to enroll in a school immediately afterward.
And Warhit points out that even though you might consider yourself an advanced, fully trained actor when you arrive from other parts of the country, you may not seem so to casting directors in Hollywood, where the competition is so fierce.
I asked Camacho, who came to L.A. with almost no training, how he'd advise other young hopefuls: "The No. 1 thing is go out there and get training, study acting, because with all the rejection and all the torment of being an actor, and the rigors of your life, if you have something solid you're working on, no one will take that away from you. You won't have commercial success probably for a long time. There are so many reasons to quit, and I felt that way, but you have to concentrate on the craft of acting and let that be your guide…. For sure, looks are involved, but that only gets you so far. I'd only be booking certain things without training. Keep learning!"