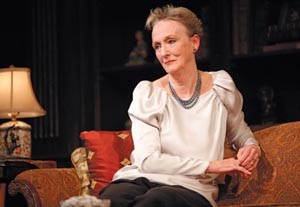 Recently, on the PBS show "
Theater Talk
," F. Murray Abraham discussed playing Shylock in Theatre for a New Audience's production of "The Merchant of Venice," currently on tour. He's seen many prior Shylocks, from Laurence Olivier's right up to Al Pacino's on Broadway this season, but none have influenced him, he said; he considers his Shylock to be entirely his own.
When playing a classical or other oft-performed role, to what degree do actors find themselves influenced—intentionally or unintentionally—by the performances of others in the same part? And is the reverse true? After playing a character, do actors sometimes watch another actor do something insightful in the same role and mutter a Homer Simpsonish "D'oh!" or maybe think, "I did that better"?
Nothing New Under the Sun?
Of course, no two actors are exactly alike. Kimberly King, of the new Seattle-area West Sound Repertory Theatre, tells her anxious students, "There's no Hamlet like your Hamlet; none came before you and none will come after you." And each performance is affected by context: director, other actors, environment, etc. Besides, some would say there is nothing new under the sun.
New York actor Kathleen Chalfant once played the title role in Shaw's "Major Barbara" and found herself struggling to understand Barbara's motivation for changing direction in the middle of the play. The British film version was on TV, and Chalfant saw that Wendy Hiller embraced Barbara's paradoxical moment of transformation with a certain confidence. "I'm not sure she knew why [Barbara changed] either," says Chalfant, "but it was helpful to know that you can do the Jimmy Cagney thing—plant your feet, look the other guy in the eye, and carry on."
Another New York actor, Betsy Aidem, was also struck by watching a particular transition. After performing the title role in "Miss Julie" in 1990, she saw Lena Olin in Ingmar Bergman's version at the Brooklyn Academy of Music. Bergman was apparently an expert at helping actors segue from moment to moment. When Olin's Julie came on stage after having sex with her father's servant Jean, she threw up and writhed on the ground. A moment like that can transform a part, says Aidem: "Bergman woke me up to something about the play…. I'd love to have another crack at it." But unlike some of her colleagues, Aidem doesn't go to Lincoln Center to watch recordings of past productions of plays she's been cast in. "I don't like to have other people's performances in my mind," she explains.
Every director guides you toward a different approach. For example, Chalfant has played Agnes in Edward Albee's "A Delicate Balance" twice, at Arena Stage and at Yale Rep. The first time, she felt haunted by the Lincoln Center production she'd seen, in which Rosemary Harris played Agnes. "I couldn't get it out of my head," Chalfant says. "I thought she was so good." But the second time she played the role, the play was directed by James Bundy, whose approach was completely different from those of the other productions. He had "a kind of rambunctious idea about it," recalls Chalfant, and that swept away the ghost of the esteemed Ms. Harris.
Aidem, who says she's not by nature an imitative actor, occasionally glimpses an acting choice so brilliant as to warrant treasuring it for possible future use. Such was the case when she saw Raul Julia's Othello: In an unforgettable moment, he used a physical gesture to represent his disgust. "I thought, 'That's so fantastic, that's useful,'" Aidem says. "I always think of that, but you think of your own way of doing it, feeling it through your own being. I remember it with great fondness but haven't found a place for it."
A Time-Honored Tradition
Lest you look askance at the idea of "copying" someone else's choices, consider this: Some theatrical art forms require carrying precise gestures down from generation to generation (think Kabuki, commedia, opera, ballet). And some comedians are famous for stealing other comics' jokes and routines. When I asked clown and solo performer Geoff Hoyle if he thinks anyone has co-opted his signature three-legged-man routine, he said, "Probably." As a comic performer, he's philosophical about it. He himself got the idea from a book.
In any case, for some it's foolish to ignore the experience and knowledge of others. Preparing to play King Lear at California Shakespeare Festival (now Theatre) in 1991, longtime actor Julian López-Morillas found a series of books by the late drama scholar Marvin Rosenberg (such as "Masks of Othello: The Search for the Identity of Othello, Iago, and Desdemona by Three Centuries of Actors and Critics"). Rosenberg exhaustively examines how various Shakespearean characters have been performed through history, going back to Garrick in the 18th century, by looking at the writings of critics who saw the performances, listening to 20th-century recordings, etc. "It was hugely informative and at times influential," says López-Morillas, who, for his modern-dress Lear, "stole" the idea of having the king's pants down around his ankles in one scene.
Because he'd seen Peter Brook's film of the play, López-Morillas' Lear was strongly influenced—in general conception, not in moment-by-moment choices—by Paul Scofield's tough, rigid king rather than by Olivier's more senile version. "I'm not defensive about picking up ideas," López-Morillas says. "I don't have a fetish about originality. If I were about to do, say, Shylock again, I might well watch the Al Pacino film once. Probably not more, for fear of being overly influenced. Obviously, I'm not the same actor as Pacino. If there's a choice I like, I try to justify it for myself and look for ways to adapt it to my purpose. I don't make a religion out of keeping myself pure in order to not be influenced. I doubt that anyone watching the performance would be able to detect places where I'd been influenced."
He expects to reprise Lear someday and knows that when he does, he'll re-watch Ian McKellen's impressive turn and borrow from it. "I don't think actors should be too afraid of getting ideas" from others, López-Morillas says. "No two actors are alike. I'm assuming actors have enough knowledge of their own strengths and weaknesses not to steal indiscriminately."
King says she's been influenced by certain actors' bodies of work but doesn't usually find herself copying them or lifting particular choices they made. It's their depth of knowledge and experience that tends to register. And comic genius Danny Scheie declares, "Originality is maybe the biggest buzz—coming up with stuff out of me that nobody's ever seen anyone do exactly this way before." He recently appeared as Valere in "La Bête" at Asolo Rep in Florida, a role that Mark Rylance was playing at the same time on Broadway, and he's glad he didn't see the Broadway version. The playwright, David Hirson, told Scheie that his Valere was the opposite of Rylance's.
It's tempting to see another in the role, Scheie admits, especially in comedy: You don't want to miss a trick. "But it's so much more rewarding to find it on your own," he says. More useful is to watch others in comic roles for the purpose of avoiding their pitfalls.
Scheie's specialty is what he calls a "postmodern re-collage approach" to acting—illuminating classical roles by reaching into a grab bag of pop-culture performances—"a little Eve Arden here, a tiny bit of Mary Tyler Moore there," a discovery that a particular moment in a Shakespeare play is exactly like a moment in "I Love Lucy" or "The Sound of Music." "If I didn't have the wealth of all the performances in movies and TV and theater and cartoons since I was born, if I didn't have those influences," he says, "my acting would be really different, and I don't think it would be as good."
In general, Scheie concludes, "I think a real artist wants to do it on their own. The other things are training wheels, crutches I can use to back me up. It's more fun to go out there without that. But scarier."