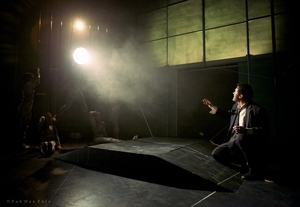 At
Santa Monica Playhouse
, the submissions of more than 100,000 actors have come our way in the past 52 years. We have worked with several thousand of those actors in more than 600 productions. We have, however, noticed a pattern of repeatedly recurring yet fixable errors in submission judgment that does not seem to have changed in more than half a century.
An audition is an actor's first line of defense. It is a performance, as surely as is the role of Juliet or the Gentleman Caller, and requires the same preparation, attention to costume, makeup, hair, intention, and characterization, the same application of tenets you or your acting teacher have set. Most important of all, as with any acting choice, it requires common sense.
After reading the casting notice, send an applicable photo. If the notice is for a "children's musical," it is less than judicious to send a picture in which you look like a hooker on a bad night.
If the notice says "singing required," don't submit if you can't sing. Out of the 400 pictures/résumés we received last year for our "singing required" casting notice, more than 75 percent listed no musical experience of any kind. This not only wastes the director's time but also engenders a certain amount of frustration in those who must search through countless submissions to find even one who fills the bill.
Spell names correctly. If you want someone to give you a job, it is wise to check the spelling of the name before writing a personal note.
Don't send a form letter that reads: "Dear X: I have heard good things about your theater and would love to be a part of your renowned company," especially when "X" is not the theater you're mailing.
Don't submit a photograph that was taken 20 years ago. The '90s may be back in fashion, but we're not fooled.
If you've been told to do something eye-opening to set your material apart, don't put your résumé on dark purple paper printed in dark blue ink. That's not eye-opening. It's just unreadable.
If you're going to invent a credit, make certain that you don't invent one involving the theater to which you're submitting your résumé, especially when the director you list is in fact directing the show for which you would like to be considered.
Most important of all -- always use common sense. Be sure to read the entire casting notice, and do not submit if you have no qualities that fill the bill. Break a leg, and hope to see you all at our next auditions.
Chris DeCarlo and Evelyn Rudie have served as co-artistic directors of Santa Monica Playhouse andActors' Repertory Theatre since 1973. Under their aegis, the playhouse has been awarded more than 250 awards and commendations.