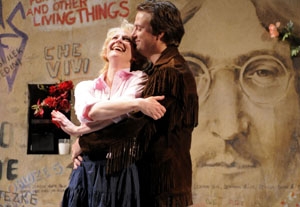 When Michael Paller served as dramaturge for American Conservatory Theater's production of Tom Stoppard's "Rock 'n' Roll"—set in 20th-century Czechoslovakia and Cambridge, England—he prepared a packet for the cast that included information about communism, fascism, and the Velvet Revolution; a timeline of musical and world events from 1965 to 1969; an explanation of how Cambridge University differs from American universities; definitions of unfamiliar words in the script; and even a few evocative Brecht poems.
"The point," says Paller, resident dramaturge with the San Francisco company, "is to help actors make appropriate choices." Later this year, when he works on Harold Pinter's "The Homecoming," he'll probably include photos of homes in London's East End in the mid-20th century. Many actors respond more intuitively to pictures than text, he says.
To actors, the function of a dramaturge can be somewhat mysterious. Paller, originally a playwright, was himself initially suspicious of their usefulness, as are many playwrights, he says. Often seen as the link between director and (living or dead) playwright, dramaturges can also directly help actors, depending upon the culture of the producing theater. Paller sees part of his job as clarifying the world of the play for the actors, in terms of references in the script—"What does this mean?"—as well as the actors' understanding of the time period and where their characters might be positioned in that society.
Cindy SoRelle, chair of the board of directors of Literary Managers & Dramaturgs of the Americas, views part of her dramaturgy job (at McLennan Community College in Waco, Texas, where she teaches) as more than just advocating for the playwright. It's about advocating for the playwright's words. And when actors understand the words, that helps with memorization.
The character should never know something that the actor doesn't know, SoRelle explains. Whether in a classical or contemporary play, she wants every actor to find meaning in every line. When actors are having trouble learning particular lines, she finds it's often because they don't understand exactly what they're saying. She can help with that. She also helps them with scansion. "If you can't scan, you won't understand all there is to find in Shakespeare," she says. "You won't find the syncopated rhythm, and that makes it so much easier to memorize…. Sometimes I think the best thing I can do with actors is help them learn lines from a contextual point of view." Also, when she helps actors see the play from a structural perspective, they're able to make better choices.
Dramaturges get into the field through various routes, and their multiple skills are something that actors would be smart to make use of. SoRelle followed the academic path, studying philosophy and psychology. Paller studied criticism and dramaturgy at Columbia. New York–based actor Debra Cardona, currently in the national touring company of "Mary Poppins," has been the dramaturge at the Classical Theatre of Harlem for six years, having received an MFA in dramaturgy from Brooklyn College.
"Before I became a dramaturge, I always homed in on my part, as if the play were the name of my character," Cardona says. "But as a dramaturge, you have to approach the world of the play, its context and history. You attack it as a whole and then home in on things as they come up in rehearsal." Working as a dramaturge, she says, has enhanced her acting skills.
'Why Do I Have to Know All This?'
The most frequently asked question that Cardona gets from actors is "Why do I have to know all this?" For example, she was working on a production of "Marat/Sade," and before rehearsals started, there were two days of discussions and films about Napoleon, giving the actors background on the French Revolution, the history of madness, and so on. One actor wondered why this was necessary. Cardona replied, "All of this is referred to in the play—if not directly, then it's fueling what you're saying. If you know all this, whether you use it or not, it really will inform all the choices you make."
She adds, "It can be little things, like how, in 19th-century Russia, am I going to sit?" When she was working on Chekhov's "The Three Sisters," a conversation with an actor in the subway on the way home from rehearsal, about the location of a factory mentioned in the play, helped him generate several possibilities for understanding his character's socioeconomic background. Cardona, by the way, likes to talk to actors on breaks, walking down the street to the bus, on the subway—that is, outside of rehearsal, where their questions won't bog down the process and distract the other actors. "We have wonderful conversations," she says. "Some directors love to sit down and discuss all possibilities, but I'm able to do a greater depth of historical research." Directors are usually too busy with other aspects of production.
Scott Horstein, a professional dramaturge for 11 years, came to the field after trying out every other aspect of theater and eventually entering an MFA program in dramaturgy at the University of California, San Diego. He went on to freelance at theaters such as San Diego's Old Globe, Los Angeles' Cornerstone Theater, and the Oregon Shakespeare Festival; he now specializes in ensemble-created projects in the San Francisco Bay Area, with or without a lead playwright. Horstein feels that dramaturgy is a combination of "fun stuff and intellectual stuff," but that the only way to be effective is to have interpersonal skills too. "I'm the one focusing on language and story," he says by way of job description.
In the kind of ensemble-driven environment that is Horstein's milieu, the actors have an increased authorial role. The dramaturge thus becomes an important resource for them, a way to feed their thoughts on dramaturgy into the creative process. "I might just be an ear so they can be heard," he says. "Or I can say, 'What a good idea. I'll talk to the playwright and director about that.' "
Are there any questions you shouldn't ask a dramaturge? No question is too small, asserts Cardona. Paller recalls being asked a question irrelevant to anyone's understanding of the play, although he obligingly did the research because he always likes to say yes to a query. (He discovered that it is not possible to take a midnight train to Chicago, as mentioned in the script, but so what?) "Some things you can use your imagination for," he says. Cardona steers questions about personal character motivation toward the director. "But if they want to know how to pronounce something," she says, "that I can answer." She attends rehearsals frequently, looking for questions that come up, issues that hadn't been previously considered.
SoRelle thinks that sometimes actors ask questions out of fear—questions they should discover answers for on their own. "Fear is not your enemy; it's good to work your way through it," she advises. She adds that sometimes dramaturges play into that fear—"We have a tendency to prove we're needed"—so instead of encouraging a dialogue, they might hand an actor cut-and-dried answers. That, she says, can be a trap for actor and dramaturge. Paller adds, "Some dramaturges get very precious and protective about what we do," as if to say, "Only we are qualified!" He understands that impulse but doesn't subscribe to it. From his mentor, Lynn Thompson at Circle Rep, he learned that even if a theater doesn't have a dramaturge, there's always someone who's essentially doing dramaturgical work.
Horstein reminds actors that most dramaturges love talking to them. And most dramaturges, he says, are pretty good at navigating between their responsibility to the director and the playwright and their responsibility to the actor. When directors are looking to cut text, SoRelle notes, they start with the lines that aren't working, so she makes sure the actors understand the lines thoroughly, making it harder for them to be cut. (It should be mentioned, though, that sometimes it's the dramaturge who is asked to do the cutting.)
In his book "Tips: Ideas for Actors," Jon Jory includes advice from dramaturge Michael Dixon, who says that actors should ask the dramaturge for information that will inspire or inform them: videos, music, a field trip, a talk with an expert. And they shouldn't be afraid to ask why a line was cut.
Befriend dramaturges, Horstein urges. "Be active in approaching us."