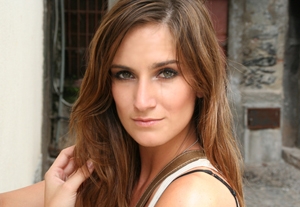 With apologies to Paul Simon, there must be 50 ways to find a teacher.
Check out the Back, Jack. Back Stage, that is, and other trade publications with ads and listings. Go to websites for more details; call those that sound interesting. Prepare a list of questions, such as "How often will I work in class?" (in popular classes you might work infrequently) and "Will I be able to go directly into the head teacher's class or must I work my way up?" (that's another deal-breaker for some prospective students who want to work with the most high-profile teacher in the program).
Kelly Valentine worked with esteemed TV sitcom teacher Scott Sedita for two years and appreciated the immediate and direct access to Sedita himself.
Get recommendations. From friends, colleagues, etc. If you're planning a move to L.A., get advice from past favorite teachers or your agent; they may know people in the city. When Jeff Boehm arrived from Chicago, he'd heard horror stories about how hard it would be to find a teacher. But a director in Chicago recommended a former colleague of hers who was now in Los Angeles and who turned out to be a good choice for Boehm.
Ashley Avis, who arrived in    L.A. a year ago from Wisconsin but spent six and a half years in New York, got a referral from her New York manager to an L.A. casting director who coaches. Avis has had one session with the CD, which she loved. She also took a class at a studio recommended by a roommate. She says that until she finds a class as good as the one she attended in New York, she'll stick with the coach. Avis' impression so far is that actors in L.A. classes are more competitive and less supportive than those in her New York classes, where she worked alongside Broadway actors who were very encouraging.
"Ultimately, the best thing is if you see somebody doing really good work, find out where they've trained," says Jim Chevallier. Go to plays and peruse the actors' bios in the program.
Read books by local teachers. A partial list: Ivana Chubbuck, Deryn Warren, Basil Hoffman, Judy Kerr, Bill Howey, Stephen Book, Judith Weston, Eric Morris, Larry Moss, Susan Batson, Margie Haber, and Kimberly Jentzen.
Audit before you plunk down your bucks. Kelvin Han Yee advises being wary of teachers who won't let you audit one class. Many schools and teachers will let you do so for free.
When she moved to L.A. from Seattle two and a half years ago, Lindsay Evans went to every free sample class possible before settling down to work with Paul Kampf. She responded to his approach, the price was right, and she liked that he works on outside projects in which he casts his students. Some programs have showcases, she says, but it's gratifying to participate in a project that exists for artistic reasons, not just to be seen by agents.
Consider the cost. Rates vary, but in general, classes are expensive, so you do want to get what you pay for. Due to the recession, Chevallier is currently taking free improv classes at Monkey Butler, which he says was originally a Christian group, but "there's no air of religion about it."
Avis recently met an actor who'd spent $125 an hour for a coach who was highly recommended online. The coach didn't give the actor any specific pointers that he couldn't have figured out for himself, he said, and despite all the praise the coach had gotten, the actor felt it wasn't worth the price.
Evaluate prospective teachers. This is the tricky part.Some teachers get great word of mouth, but they might not be right for you personally.
"When actors come to L.A., they need to ask themselves, do I need technique? Something supportive? Something tough? Do I need to work on honesty?" says Yee. Maybe you're coming out of your ingénue period and need to do some character work. Maybe you need improv skills. "Improv is very big in L.A. these days—being able to talk, do actions right now in relation to whatever is happening," Yee says. Good improv classes, he adds, come out of the Chicago tradition of the late improv guru Del Close.
You're likely in L.A. for film and TV, so you'll want a teacher who understands how scenes are put together on screen and what the current styles are, says Yee. For example, TV actors are talking much faster these days, and you'll want someone who can help you with that, maybe someone who's studied Edith Skinner and has some speech and voice background. "I've talked to teachers who say they don't watch TV!" Yee exclaims. He'd avoid someone like that.
Other caveats: Some teachers are hard-sell. When Chevallier was class shopping (he settled on Doug Warhit and still recommends him), one teacher called him and said something like, "I forgot when we're supposed to meet," but Chevallier hadn't made an appointment with him.
He also notes that lots of teachers say they teach Meisner—the current technique of choice in L.A.—but while anybody can teach the repetition exercise, there's much more to Meisner's approach than that, and only a few teachers are bona fide (he recommends Joanne Baron and a few others). "A technique like Meisner is all about being vulnerable," Chevallier adds, so you want a teacher you can trust.
And be careful, he continues, about schools whose main selling point is how many celebrities went there: "A few schools are only well-known because of their advertising." Avis agrees: "More than in New York, a lot of coaches here tout their celebrity clientele. The ones with bigger peacock feathers, it's more about show than about focusing on you individually."
Some fine teachers never advertise. One of them, Wendy Phillips, who teaches only advanced actors, warns against casting-director workshops, a controversial issue that's been written about plenty in Back Stage over the years. "Everyone's dollars are limited right now," she says, therefore many actors take CD workshops "trying to find out what will make them successful, as if there was something that simple to learn…. I think the information the CDs bring is valuable, but it's not the same as continuing to develop as an artist. Your best shot at getting work is getting really good."
The distinction, says Chevallier, is between schools that exist to teach you and those that are selling access.
When Phillips first hit L.A. years ago, everyone she knew had a teacher. She herself studied simultaneously at the Strasberg Institute and with the late Peggy Feury, four days and two nights a week, and continued on to a TV career.
At American Conservatory Theater in San Francisco, Young Conservatory director Craig Slaight, who worked in L.A. for 12 years, advises his graduating students against taking CD workshops. "The real thing is to be engaged with a teacher or group that will allow you to continue to evolve," he says, adding, "You want your workshop or class to be your church. Don't stick with it just because so-and-so has a reputation. No matter if they're brilliant, if your personalities don't connect, it won't help you."
University of California, Irvine, professor Robert Cohen concurs. He advises his students to look for dedicated teachers, "as opposed to someone who can't make it in today" because he or she has an acting gig. He also observes that students just out of school sometimes become dependent on guru-type teachers who espouse magical solutions to acting problems. He points out that Lee Strasberg and Sanford Meisner, although each espoused his own method, were fantastic teachers mainly because they responded to the uniqueness of each actor.
One thing's for certain: Whether you're new to L.A. or seeking to polish your skills, classes are crucial. "That's how you meet people and get confidence," says Valentine. "The talent pool here is huge, and you don't get to work frequently. The times I've felt most like an actor were when I was in classes every week and doing well."
Have a question or story idea request for Jean Schiffman? Please email jeanschiff@earthlink.net. Make sure you write "The Craft" in the subject line. Thank you!