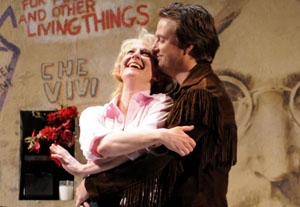 When the intimate drama "Next Fall" moved from a 99-seat Off-Broadway house to the 597-seat Helen Hayes Theatre on Broadway last March, cast member Patrick Heusinger remembered two pieces of advice to help him with the transition.
He'd attended an interview with Judi Dench at which, from the balcony, he'd asked, "How do you transfer so well from film to stage?" Dame Judi replied, "Generally, in film I think it, and hopefully the camera picks it up. On stage I add a gesture." For example, she said, if her line were "I don't know," she might add a shrug. To demonstrate, she ever-so-slightly shrugged her shoulders. And when Heusinger played Lancelot in the national tour of "Spamalot," he was told that director Mike Nichols said in rehearsal, "Don't go out to them," meaning the audience; "make them come to you."
"I'd had this performance in my body already that was so subtle and gentle," Heusinger says of his work in "Next Fall." Now he had to achieve balance, he explains. "I could no longer just think things. I had to add gestures." It took him a few weeks to accomplish that and "still maintain the subtle, delicate performance I was trying to deliver."
It's all about how little you can do to tell your portion of the story. "The easy thing," Heusinger says, "is to do more," and he admits to doing that at times in "Spamalot." "You're pushing, working too hard. I want to assume the audience is not stupid. I'm going to trust that my choices physically will deliver the message without me overgesticulating."
Heusinger has played in houses with as many as 2,800 seats, but large houses are not limited to Broadway, of course. Francis Jue, for example, had just returned to New York after performing in "Damn Yankees" at the 13,000-seat outdoor Muny Theatre in St. Louis when I talked to him. The Eugene O'Neill Theatre, where he came in as a new understudy years ago in "M. Butterfly," his first Broadway experience, was tiny by comparison at 1,108 seats.
Unlike regional theaters, where a performer may work repeatedly, a Broadway house is likely to be unfamiliar. "One of the first things you clock is how close the balcony is," says Manoel Felciano, who worked on Broadway before joining San Francisco's American Conservatory Theater as a core company member. When there's a big balcony overhang, it gives you the illusion of intimacy, he explains. He tries to find something exciting about whatever theater he's in.
"With some of the barns," he says, "you feel challenged and motivated to reach every single person in that house." He adds, "One of the toughest things for young actors, or those who haven't played in those kinds of houses, is to pick your head up. Half the audience is above your eye line—the cheap seats. Those people will reward you triple if you give them a little bit of yourself, especially early on in the show. Play a little to them and you feel a shift in the energy, especially in musicals, when you're singing to the heavens."
BODY LANGUAGE
Tro Shaw was a young actor, freshly arrived in New York, when she was cast as Anybodys, one of the three female principals in "West Side Story," at the 1,740-seat Palace Theatre. She learned an early lesson when she sat in the house during tech rehearsals and realized that when watching group scenes, because of the microphones, it takes the audience a minute to figure out who's talking. So she knew she'd need to take time to draw focus. For example, if her character was experiencing frustration, she'd let that frustration fill her whole body. She'd heighten all her actions, making them 10 times more important than they'd be in a small theater.
On the other hand, Shaw was careful not to, as she puts it, "overcommunicate." "You want to be honest and truthful and still large enough to reach the back row," she says. "I tried to keep the physical life of my character very natural and real; I stayed true to how Anybodys moves through space." She concludes that she wouldn't have done it terribly differently in a small theater.
"The people on the second mezzanine won't get the same experience as people in the eighth row," comments Pamela Winslow Kashani, who has played in the 1,900-seat Gershwin Theatre and elsewhere on Broadway. "But they can still understand and feel what you're feeling by your body language, if not the expression on your face. You can't worry about it too much." Her preferred house is 600 seats: "Facial expressions would not be lost, but it would be large enough to make some beautiful stage pictures."
Felciano believes that the way in for the audience is through your face and eyes. "You lose that if they only see the top of your head," he says. And he offers a few tips for making yourself heard on a large stage: If your set hampers the acoustics, your voice will disappear offstage when you turn your head, but when you're speaking intimately to someone, you don't necessarily have to look at them; you can look forward. In fact, often in real life, in intense moments, we don't eyeball each other. Also, he says, "Consonants are your friends"—and it's especially important to not swallow the ends of phrases, something young actors tend to do. In Shakespeare, he notes, the operative word is often at the end of a sentence.
You'll most likely be miked on Broadway, certainly in musicals. "When you're miked, you have the option to ride the mike, croon a little bit," says Felciano. "That way the audience can sit back, knowing the sound will come from the speakers. When you're not miked, the audience has to lean toward the stage in terms of their listening energy, and you can feel that."
Size is one thing; the cachet of being on Broadway is another. Jue confesses that in his first Broadway venture, he said a silent prayer to all the divas who'd been on that stage before him, to give him courage. And the first time Shaw walked out on the Palace stage, when the house was empty, she started weeping. "This was my dream!" she says.
When you've come from the penny-pinching nonprofit world, you can be dazzled by the luxury of it all. "You could see the money on stage!" says Amy Griffin, who performed twice as the swing in "How the Grinch Stole Christmas" on Broadway, at the Hilton (big) and the St. James (smaller). The sets and costumes were gorgeous, she says. "The production is bigger—and the paycheck is bigger!" Plus you're working with the best professionals in the field.
Christopher Pennock was in his mid-20s when he understudied Christopher Walken, opposite Maureen Stapleton, in "The Rose Tattoo." He was terrified, but to watch Walken work was enlightening: He never performed the same way twice and didn't care whether people liked him or not; he just wanted to get to the truth of the character. By the time Pennock went on, he wasn't frightened anymore. Now, however, he prefers smaller theaters and performs with the Actors Studio in Los Angeles and elsewhere.
The glamour and excitement may indeed be pervasive, with expectant audiences coming from all over the world to see a show on Broadway. "When you're young, you think Broadway is different," says Griffin. "But when you get there, it's all the people you've worked with and loved your whole life." Says Jue, "When people are paying $250 to see you, you might think the pressure is different. But for me the pressure is exactly the same: Pay attention to the script and the other actors, focus on the style of the particular show, find out what part I play in the story, and try to fulfill that to my best ability. Go from moment to moment."
And Heusinger says, "The more I allow myself to think that doing a play on Broadway is more important than doing a play in regional theater, that's the moment I sacrifice my storytelling abilities. Although obviously," he adds, "it's very cool."