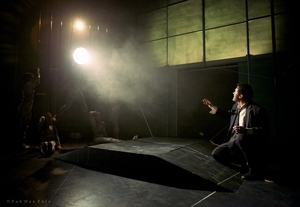 For artists, imagination might be the most critical key to your talent. We have heard stories of great painters and composers haunted by images, and writers distraught for lack of images. To a true artist, it is as if the images have a life of their own. Are you a true artist?
For actors, this connection to images is so important that every major acting technique relies upon its use, though each technique differs in finding the source of the image. One approach invites you to imagine your past experiences to activate a truthful response in yourself. A second wants you to respond unchecked to your partner, as if she is really doing that. A third may want you to substitute in a need that you have in real life. A fourth is to immerse yourself in the fantasy of the story and reveal what arises in your creative imagination inspired by the writer's and director's vision. What is your source?
This is important: From what pool of images do we draw the character's behaviors, appearance, actions, and motivation, and how does the source of the image affect the audience and the actor? In the first three approaches, your everyday self -- your personality -- is to be used for this art.
There is a famous story from the First Studio of the Moscow Art Theater about Stanislavsky asking Michael Chekhov to do a "private moment" from his life that he had never revealed. Chekhov acted out the death of his father so movingly that Stanislavsky declared Chekhov's use of personal experience as evidence of the effectiveness of his system. When Stanislavsky later learned Chekhov's father was still alive, Chekhov was expelled -- until demand for the actor's return was so great that Stanislavsky could not deny the power of his unlimited realm of fantasy.
Finding characters within our experience means we only play what we've experienced. That can feel safe, familiar, and repeatable. We use the exact same tempo, rhythm, walk, and mannerisms in every character. The longer we are in the business, the more we become a cliche of ourselves. If you as an actor do not surprise yourself, you're not in a peak performance. In the zone, you experience transformation -- and so does the audience. Are there famous actors whose current performances fail to surprise you? Reinvention is a transformational act of imagination. Also, not needing personal pain as a source allows you to develop a healthy personal psychology. Imagine being happy and amazingly talented.
Charlie Bowles
is producer of the National Michael Chekhov Association Training Institutes and a theater reviewer in Dallas -- Fort Worth.
Lisa Dalton
acts, directs, teaches, and is president of NMCA, which synthesizes the techniques of Michael Chekhov with modern understandings of artistic vision and theater science.