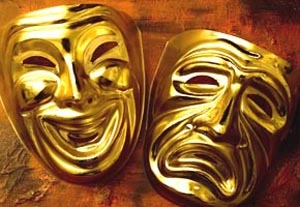 I'm often asked by people who have seen "The 39 Steps"—in which I'm performing on Broadway, along with Jill Paice, Jeffery Kuhn, and Sean Mahon—how much of the show is improvised. I love getting this question. Because, though a number of audience members apparently feel as if we're making things up, the fact is the show is virtually choreographed and doesn't allow for much, if any, improv. And isn't that what acting, comic or otherwise, is all about—creating the illusion that we're making it up as we go along?
When people think of improvisation, they usually think of groups like Second City or the Groundlings. Those performers are trained to create on their feet without a script, writing their own play from moment to moment. But what about legit theater, where you're working with the playwright's words and the story he or she is telling? I believe it's important to bring a sense of improvisation to the work, though not by making up your own story or words. I mean a subtler form of improv, one that's more within than without.
Performing in a comedy is a constant balancing act. The work you do is the same you would do for a drama, but a comedy has additional requirements. At the risk of sounding pretentious, it calls for a mix of discipline and abandon, of science and jazz. I say jazz because I believe comedy is like music. It's about rhythm. I've had the great fortune of working on many plays by David Ives, and David's writing has a particular rhythm. You have to understand it. You meet David's rhythm; you don't try to force his rhythm to meet yours. You do your work and let David's rhythm take you. You let go and play—like jazz.
Now for the science. I've also had the pleasure of working with that great comic director John Rando on all of David's plays. Some of my favorite times in rehearsal have been spent with John, looking for the secret to a particular gag. Is it a slight pause? A tiny sound? A little look? John usually knows the right thing to make a joke land and give the audience the release of laughter.
Another balancing act in comedy is your awareness of the audience versus the reality of your stage world. The audience is more present in a comedy—another character, if you will. But your awareness of them should never take you away from your moment-to-moment life in the play. The audience's response can be very seductive. You have to let them in just enough while paying attention to your onstage life. When I was younger, I was a bit of a laugh whore: Get that laugh at all costs, and once you've figured out how to get it, it's frozen. Now that I'm older, I hope I've achieved more of a balance.

Advice From Mike
One of the best pieces of advice on comedy I've ever received came from Mike Nichols. I was in a play called "The Last Sunday in June," and Nichols—who was a mentor of our director, Trip Cullman—came to a performance about five months into our run. When Trip asked for his thoughts, Nichols was very complimentary. But then he said, "All the actors know exactly where their laughs are. They need to let go. They need to give up their babies for a performance and see what happens." We were told of his observation, and Trip instructed us to do what Nichols advised: to give up our favorite laugh.
Now, I had some brilliant comic lines, written by Jonathan Tolins, and the idea of sacrificing one of my babies was scary. But that night we all did just that—and the show was alive. We found new laughs, but more important, we were talking to each other again, listening more to each other than to the audience.
This is what I mean by improvising in a play. It's not adding or changing the words. It's being fully alive on stage, letting go of your work and surprising yourself and your partner. It's being open to discovering new things every night. It's playing. My acting teacher Caymichael Patten, using an audition as an example, always says, "You must do the work. Do your homework, make it specific, then let it go. When you walk into the room, it should be more of an improv than set notes to hit."
I remember during our pre-Broadway Boston run of "The 39 Steps," our director, Maria Aitken, returned after a couple of weeks of performances. Of course, we had all added little embellishments—new bits we felt were funny and played well. She sat us down and said, "Don't get wider; go deeper," meaning don't keep looking to add a lot of stuff on top of the script and the characters you've created. Go deeper within. Do your exploring and growth there. Play there.
Arnie Burton has been seen on Broadway in the original production of "Amadeus" and Off-Broadway in "The Merchant of Venice" paired with "The Jew of Malta" (seen also at London's Royal Shakespeare Company), "The Last Sunday in June," and "Mere Mortals and Others." TV and film credits include "Frasier," "Caroline in the City," "Law & Order," "Igby Goes Down," and "Game 6."