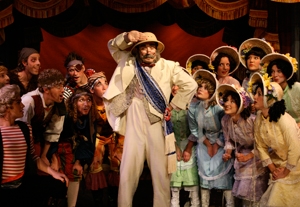 A common joke in summer stock or rep tells of an actor walking into the dressing room and saying, "What show are we doing tonight?" It's not too far from the truth. For example, New York actor Joshua Kellman, who has worked for several summers at
Rocky Mountain Repertory Theatre
in Colorado, relates that when he arrives for his call, he doesn't necessarily know what show he's there for—until he sees which costume is on the rack.
Despite what audiences sometimes believe, it's not very likely you'll accidentally say lines from one play when you're in another. "The worlds [of each play] are so different and so well-defined," says Jesse Hinson, a Boston-based actor who has been doing summer stock since 2003. He started at
Georgia Shakespeare
in Atlanta, and for the past three summers, he's played the
Berkshire Theatre Festival
in Stockbridge, Mass. "You do a matinee and come in at night, and then you're doing a different show and the crew has changed the set. Now and then a little in joke will bleed from one show to another, but for everybody's sanity, you try to keep things separate."
Jesse Hinson

"Doing rep is much easier than just doing one play," Kellman says. "It forces you into being specific with your characters. When I'm doing three parts [in three different plays] at once, it keeps me from being lazy. How are the characters different; how are they similar; how do they walk or talk differently?"
There are other advantages to the multiple casting of summer stock:
You might be cast in roles you wouldn't get elsewhere. Last summer New York actor Emily May Smith played the queen (usually a role for an older performer) in "Cinderella" and Roxie in "Chicago" at the Barn Theatre in Michigan. She learned about age makeup and how to develop two entirely different characters simultaneously, one of which (Roxie) was particularly physically and emotionally demanding.
You won't be bored—you're switching gears too fast for that. Hinson describes a recent schedule at Georgia: 9 a.m.–noon, rehearse children's play for later in the summer; 1–6 p.m., rehearse "Much Ado" 7–11 p.m., rehearse "Cymbeline." He'd rehearse the first play for two weeks, then add on rehearsals for the second play, and so on. Appearing in several plays at the same time "keeps things fresh in your mind…. It keeps you on your toes," he says. "Doing one play, I can go on autopilot, but this keeps me in check. And it's so fun to go into different worlds and to see different sides to the other actors night after night in a season."
Robynn Rodriguez, in the company at
Oregon Shakespeare Festival
(not summer stock but with similar demands), agrees. She has been doing rotating rep since her teens, when she did summer stock at Chico State University in Chico, Calif., and then at PCPA. When we talked, she was in one play only, Tony Taccone's "Ghost Light," at
Berkeley Repertory
Theatre. "Doing a straight run—doing exactly one thing every single day—it demands a different kind of focus," she muses. "Keeping it fresh can sometimes be a challenge. The great thing about rep theater or summer stock is that you change it up."
You learn to work on your own. When he interned at Georgia Shakespeare, Hinson was doing small roles and didn't get as much attention in rehearsal as the actors doing the heavy lifting. He found he had to come up with a lot of things on his own, bring in something a little new to each rehearsal and make his small part important, "but not in a scene-stealing way."
You learn to work with others. Hinson discovered, "It's not just about being a good actor but a good person who takes care of fellow actors." Says Smith, "You can't be a diva. It instills the work ethic in you."
You learn to work fast. When Smith arrived at the Barn years ago with a background primarily in music, she says she was not a strong actor. Now she's a stronger actor than singer, having had to get up to speed quickly. For one show, there were only eight days of rehearsal. At Rocky Mountain Rep, says Kellman, you're supposed to be off book when you arrive. He was, for the role of the Clock in "Beauty and the Beast" last summer, and was halfway there for his other main role, Nathan in "Guys and Dolls." He also played several roles in "Chess: The Musical." The first two shows were running while the third was rehearsing. He and the actor playing Adelaide ran lines before rehearsals started for "Guys."
If you thrive on intensity, multitasking, enormous challenges, and the inevitable adrenaline rush, summer stock is a wonderful opportunity at any stage of your career. If you make mistakes onstage, you don't beat yourself up about it, says Hinson—it's part of the deal in summer stock. It's great for actors who can just say yes to a lot of things, take direction, and make adjustments on the fly, he observes. "It's good for any young actor, so they can know if this is what they want to do. It's a rite of passage." He adds, "Playing multiple roles, you get to shift your energy 180 degrees, and I love that feeling."
To play multiple roles in summer stock or rep theater "is very old-school," Rodriguez notes. "But it keeps one fresh and flexible and pliant, and I sort of love that about it."