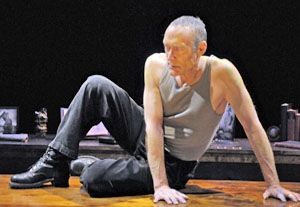 Shakespeare, Ibsen, Chekhov, Williams, Miller—all these playwrights and many more wrote memorable roles that over time have become iconic. For example, when we think of Stanley, we think Brando. Certain lines, too, carry extra weight. You know the ones I mean: "Stelllllaaa!," "To be or not to be," and so on.
Actors generally take one of two approaches to such roles. Either they "steal" from others' performances, stage or film, at some point during rehearsals or the run, or else they studiously avoid seeing anyone else in the role and try to erase their memories of others' performances from their mind. For some, though, the course they follow depends on the role itself.
"It seems everyone who's ever played Dottie Ottley has won a Tony," sighs Deborah Strang, who was in rehearsal for "Noises Off" at Los Angeles' A Noise Within when I called her. Judi Dench is one of the actors who has played that part; Strang says Dame Judi has played just about every role she herself has played.
Strang doesn't usually look at any films of the play in the months leading up to a production. "I want to leave my mind free," she says, "to be open to whatever might pop out, depending on what the director says and what I get from the other" cast members.
Still, if she feels stuck, she might look at what others have done, perhaps a week before previews. When she played Mrs. Alving in "Ghosts," she watched the video featuring Dench about three-quarters of the way into the run and decided she liked her own choices better—"although I wouldn't tell Dame Judi that if I met her!"
But, Strang says, "once I've gone through my process and mined my own imagination and my director's and actors' for whatever I can get, if I still feel stuck, I might take a look at what others have done." That was the case when she played the nurse in "Romeo and Juliet," so about midway through rehearsals she watched the 1968 Franco Zeffirelli film, which she found inspiring—although she ended up doing something very different than Pat Heywood did. "You almost can't help but create something new," Strang says. "It's all so collaborative."
Remi Sandri, who recently closed in "The Kite Runner" at Arizona Theatre Company, agrees. "Just the fact that it's you—your Hamlet is going to be your Hamlet; it can't not be," he says. When doing roles like Macbeth or Mercutio, he sometimes "steals" from others if there are good ideas. "In stealing," he says, "it will come from your own instrument anyway." He does lots of research for every role, whether there's a dramaturge on the project or not, including, a month or two in advance, reading about what others have done and letting it simmer.
Behind the Eight Ball
"If you add the word 'iconic,' you put yourself behind the eight ball; you add all the pressure," muses Ian Merrill Peakes, who recently played Macbeth at the Folger Theatre in Washington, D.C. "If you let yourself think about how Gielgud or James Mason did it, you'll find yourself in a world of hurt." He tries to avoid movies or other productions of plays he's in. "I don't have a problem with stealing things," he says, "but I'm not a great mimic, so it won't come across as truthful. I have to come up with it in the process or else it'll be forced and phony. Others can and make it their own, but I'm not great at that, so I avoid it."
Sometimes Peakes watches productions after his show has closed and finds himself thinking, "Oh, wow, what a great choice for that. I'll steal that for next time." But they're never mere bits; rather, they're especially compelling choices for a mood or an emotional attack. On the whole, though, working with a director and actors you trust helps when you're tackling an iconic role, Peakes says. He has worked frequently with director Aaron Posner and says they have a sort of shorthand.
When Gregory Wallace was cast as Gogo in "Waiting for Godot" at San Francisco's American Conservatory Theater, he knew that Zero Mostel had famously played the role, although Wallace had never seen that performance. Still, he knew there were expectations. "I guess it would have been an issue if I'd felt physically similar to him," he says, but Wallace is very different, being slender and African-American. Yet years ago, when ACT briefly considered staging "A Raisin in the Sun," Wallace was intimidated at the thought of filling Sidney Poitier's shoes. "I remember thinking, 'Wow, that would be scary,' " he says. "But it wouldn't stop me from going for it. It would make you try harder to find your own voice."
San Francisco Bay Area actor James Carpenter clearly found his own voice to play Frankenstein's monster in playwright Trevor Allen's new version of the classic tale, called "The Creature." Carpenter put aside all pop cultural images of the square-headed monster lurching around with bolts in his neck. Allen's script was true to Mary Shelley's intention—to present the humanity of the humanoid—so for Carpenter, the Hollywoodized version was irrelevant.
Not so when he first played Scrooge at ACT. The cartoon character Mr. Magoo was firmly implanted in his brain, and he had to deconstruct the role from the ground up. Rereading Dickens' novel, Carpenter discovered that it's very much a serious adult novel about the appalling social conditions of the era. "It would have been easy to do a funny or cheesy Scrooge and make people laugh," he says, "but you'd be doing it for the wrong reasons." He plays Scrooge annually, and very realistically.
When the Raven Theatre in Chicago cast Chuck Spencer as Willy Loman, he was intimidated, thinking of actors like Dustin Hoffman and Brian Dennehy who have played the famous antihero. But he told himself that Arthur Miller wrote "Death of a Salesman" as he wrote any other play, and therefore Spencer would need to approach Willy as he would any other role and make his own discoveries. "Willy Loman is simply a human being," he says. Knowing that helped him erase some of his fears.
The Famous-Line Problem
The Linda to his Willy in the show (which runs into January) is played by JoAnn Montemurro. At first, taking on the wifely role, she was uneasy about delivering the iconic line "Attention must be paid" and worked hard to find the layers of meaning in Linda's famous declaration.
Peakes deals with the famous-line problem simply by working harder everywhere else in the play, so that when he gets to, for example, "Tomorrow and tomorrow and tomorrow," it melds right into the rest of the performance. "If the rest of the work is comprehensive and solid," he says, "then when you get to those lines, and you're not trying to do them completely differently from everyone else, you can just say them."
Adds Sandri about iconic lines, "When you start reading the play, you quickly see them in context. They're immediately connected to the beat before or the beat after, and that puts them into their proper perspective in the play—not redlined or highlighted—and hopefully takes away the pressure."
He notes that in any case, you don't have time to think about how famous the line is; you're coming right off "The queen, my lord, is dead" when you say, "Tomorrow and tomorrow…." "If you're playing your objectives and all," he says, the lines "stay embedded."
But what if the iconic line is the first line of the play, as in "Now is the winter of our discontent"? "You have to trust the work you're going to do," says Peakes. "Believe in yourself."
Strang says it helps when approaching iconic roles to go back to the text and remember that the playwright didn't write the role for Dame Judi or anyone else. "The reason these roles are iconic," she says, "is that someone wrote something so incredibly juicy. Just deal with the writing and the people you're speaking to." That way you make any role your own.