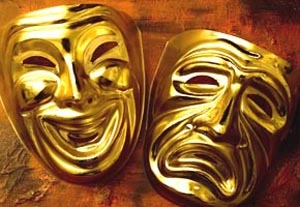 Actors replace other actors in long-running shows in a variety of circumstances, most of them fraught in one way or another. Some actors follow the role's originator, others have to play iconic characters, and still others must tackle particularly difficult parts. But one thing usually remains constant: scant rehearsal time, and mostly with the stage manager, not the director. For the current Broadway production of Speed-the-Plow, William H. Macy -- who took over in early January for Norbert Leo Butz, who replaced the understudy, who replaced Jeremy Piven, who left the show abruptly -- had three official rehearsals with the cast. Arriving from L.A. a week prior, fully off book, Macy worked with the understudies on the other days. Still, he says, "When that first performance came, I had a great fear my head would explode."
He hadn't been on stage in eight years, and the role of Bobby in the three-character play is indeed challenging. "Anybody who's tried to memorize Mamet's stuff knows how technically demanding it is," says Macy, "and also emotionally demanding at one point or another." (He mentioned this to Mamet, a longtime friend, who replied, "Billy, those words I wrote, they're just a gentle suggestion. Don't be bound by the script.") It wasn't until late in the first week of performances that Macy could stop focusing on the lines and think about acting. "Up until that time, I went on instinct and a few decisions I'd made," he says, adding that it's more apt to say not that he stepped into a role but that he leapt onto a speeding train.
Replacements must also somehow make the role their own while still fitting into the production's established structure. Macy admits to feeling intimidated after watching Butz's "absolutely fantastic" performance. But he had to be true to his own understanding of the play, which he saw as very sad. He's grateful to supportive co-actors Elisabeth Moss and Raul Esparza, who had to adjust to their fourth Bobby. Although the show lost some laughs when Macy came in with his more somber portrayal, there were no complaints from the cast. Says Frank Wood, who last June took over the role of the beleaguered husband in Broadway's August: Osage County from originator Jeff Perry, "It's mostly taking on the role as you find it. In some ways it was freeing. I didn't feel responsible for all the choices." Some of those choices felt a bit rigid to Wood, because he didn't know the source of them. And he realized that some of the things Perry did were idiosyncratic to him and not to be repeated. Still, "When you do something by rote," Wood says, "it's surprising how successful that can be: Just say the lines and look at the other actor. There's something of that quality to any rehearsal: You start somewhere; you're always in a sense doing an outline of a character that gets fully fleshed out; you always feel there's more. In this case, it was fun to start with an extreme version of that sensation."
In a more dire example of following a role's originator, in 2006 understudy Gary Littman stepped in for Gabriel Barre as the Raven in an Off-Broadway musical version of Peter S. Beagle's fantasy novel A Fine and Private Place. Barre, who also directed, had originated the role 19 years previously at the Eugene O'Neill Theater Center and played the highly physical part in every subsequent professional production. "The tricky part was making sure the other actors were cool with what I was doing," says Littman. "Gabe and I have different energies. Gabe is a little bit older -- that alone carries a different gravitas. Maybe I was a little more frenetic." In any case, he adds, you can't mimic the actor you're replacing.
To Ask or Not to Ask
Do departing actors offer useful advice to their replacements? Perry did give Wood a bit of sage advice, reminding him about the importance to his character of a particular relationship, one that Wood hadn't thought about. But in general, Wood says, it's hard for one actor to tell another why he made the choices he did: "The unconscious is such a significant part of it, and the conscious part may oversimplify it." Others Back Stage talked to also had minimal discussion with their predecessors. English actor Scarlett Strallen, who took on the lead role in Mary Poppins on Broadway in October, replacing Ashley Brown, had plenty of past Poppinses to talk to. Actually, she herself played Mary twice in the West End, originally replacing Laura Michelle Kelly. "Both were so fantastic in the roles," Strallen says, "so you feel the pressure that way." Mainly she and her predecessors discussed the weight of the role.
Both Strallen and Teal Wicks -- who was standby for Elphaba in Wicked in Los Angeles, going into the role last May -- have the additional challenge of playing well-known, popular characters. But Strallen describes her interpretation of Mary as more tart and sharp than Julie Andrews' version in the movie -- likely closer to the intent of writer P.L. Travers in the original children's books. As for green-tinged Elphaba, Wicks went on for Caissie Levy, but she'd also seen originator Idina Menzel in the role, as well as Eden Espinosa, who was Levy's standby. Now Wicks has opened as Elphaba in San Francisco.
"Such amazing women have played this role," she says with a sigh. "You want to make your own mark. But it's hard to do anything really new that hasn't been done or attempted by someone else. I needed to do everything I could to make the role honest in my own skin. So many people have seen performances on YouTube of so many different women and have their favorites and have picked them apart. I try not to let that come into my mind at all."
Everyone Back Stage talked to agreed that had they come into the production from scratch, they'd be doing their role differently, but they couldn't explain exactly how. "Small things," guesses Wicks. "Certain things, blockingwise, are set in stone, and I don't know exactly when they were set in stone. I wonder who decided it was going to be this way, but you just go with it." Some roles are so complex it's hard to imagine going into them at all, let alone midstream. But Francesca Faridany did so in October, replacing Jennifer Ferrin by playing three women in the tightly structured The 39 Steps. This is Faridany's first full Broadway role, an added stressor. She went into the four-actor play with one other new cast member and had three weeks' rehearsal with the understudies and the stage manager. She also watched the show every night after rehearsal, mostly hovering backstage observing the many quick changes. "I was much more nervous during rehearsals, anticipating it, than when I did it," she reports. "Once I got on stage, my body and bones remembered I was on a stage and had to get on with the job at hand." Ferrin gave her helpful hints for the technical stuff, and Faridany found that in a role this technically complex, character development is not the first thing to tackle. "It's a funny balancing act," she adds of following someone in a role. "You are different human beings, that's a given. But you obviously have to do what's there; primarily you're continuing what's going on." When things didn't quite make sense to her, she'd ask the stage manager about it. Or if she wanted to do something different, she'd ask the stage manager for permission. Sometimes she'd get the okay, sometimes not. Faridany also speaks wistfully of missing that shared sense of creating relationships and making discoveries that happens when a cast embarks upon a project together. Coming late to The 39 Steps, she was surprised to realize that everyone was on an individual schedule, an individual wavelength. Wicks says that for a while, 40 percent of her performance was probably based on what she'd seen previous Elphabas do. "Through time I was able to make some of those choices my own and change some things," she says. "But even now, I still have some of their show in me. I don't think that'll ever go away."