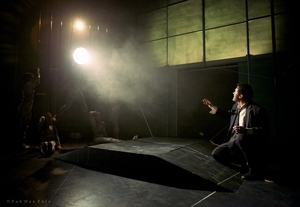 Conventional wisdom has it that an actor who trains for the stage, absorbing the long history and traditions of the theater, will be amply prepared for screen work. Implicit in this convention is that the screen as a venue is less demanding and less challenging, possibly a lesser art form for the actor than the stage, and a pursuit largely necessary for a paycheck rather than the higher calling of the theater.
The proliferation over the years of "on-camera" classes has been primarily limited to an actor learning to "be smaller" for the camera. The study of screen acting as a distinct craft, demanding in its unique methods and approaches, is eschewed. The stage requires "conservatories," whereas the screen requires a few sessions "on camera" with a casting director or agent.
The disparaging glance toward screen craft by drama pundits has been an enduring fixture of the entire tutelage of young actors. But the truth of what an actor confronts when he or she is placed in a medium shot is a far different experience than the savants of acting would have you believe.
Stage actors who arrive at
Stonestreet
's Screen Acting Workshop, the exclusive screen acting conservatory for
NYU Tisch
Drama and professional actors and directors, which my wife, Alyssa Rallo Bennett, and I founded in 1991, are often shocked to discover how boring they are onscreen. Yet others who have been dispirited by their stage training, who have been told to find another line of work, find that they have the potential to blossom onscreen. Actors quickly learn that the screen necessitates a rethink of their craft. They recognize that in many respects the screen is more demanding, with a far larger palette than the stage. The screen is not just about being "small" but about being actively human, as well as heightened.
Another adjustment actors confront in screen work is the diminishment of the writer. No longer is a playwright the sovereign; text being treated as gold becomes almost quaint when an actor is onscreen. The freedom from text becomes liberating. A rediscovery of an actor's initial youthful impulse to act, the creation of character, returns for the screen, and it becomes the screen actor's primary responsibility: serving character, not text. Onstage the actor speaks out loud; onscreen the actor thinks out loud.
The unfortunate derision directed at screen work by many theater pundits has disabled young actors in their training and ill prepares them not only for the real world but also for the extremely demanding challenges presented by the screen.

Gary O. Bennett is the executive director of Stonestreet Studios, an independent film studio in NYC, where he teaches screen acting and directing. A writer-director, his feature films include 1993's "Rain Without Thunder," 2009's "The Pack," and the web series "The 47th Floor."