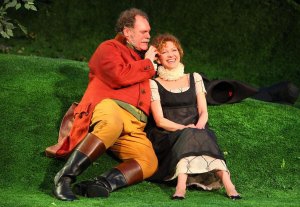 With the start of rehearsals for the 2010 season of New York's Shakespeare in the Park just a few weeks away, all of us at the Public Theater's Shakespeare Initiative have started singing this year's version of our favorite Lovin' Spoonful song:
Hot town, summer in the city,
Al Pacino's neck gettin' dirty and gritty.
Pacino will play Shylock in "The Merchant of Venice" in a production directed by Daniel Sullivan that will run at Central Park's Delacorte Theater alongside "The Winter's Tale," directed by Michael Greif. A single company will perform both plays in rotating repertory—the first time the Public has assembled a Shakespeare rep company since Joe Papp's Delacorte productions of the "Henry VI" plays in 1972. (Due to scheduling conflicts, Pacino will appear only in "Merchant.")
For most New Yorkers, summer in the city may well mean "People lookin' half dead/Walkin' on the sidewalk/Hotter than a match head," as the Spoonful vividly put it, but for Pacino and company, and for countless actors all around the country, summer in the city will only ever mean something far more fun: open-air Shakespeare.
But at night it's a different world.
Go to Zabar's and find a girl.
Come on, come on, watch a play all night.
Despite the heat, it'll be all right.
All right for the audience, that is. But for the actors on stage, it won't be easy. Outdoor Shakespeare is a tricky proposition, and triple-digit temperatures are the least of the obstacles. So, what should actors be thinking about as they prepare to step onto a sunlit stage and launch some iambic pentameter toward the balmy summer sky? Does theater al fresco require special preparation? What's so different about working under "this brave o'erhanging firmament"?
At the Public, we ponder these questions regularly. The answer to each comes down to a single idea that's simultaneously simple and complex, general and specific, sweeping and precise. To wit: The great outdoors is one really big place. In order to compete, a performer needs to bring some serious size.
The Challenges
The Delacorte, with nearly 2,000 seats and one of the largest stages in the United States (Mark Wendland's shared set for "Merchant" and "Winter's" will be 72 feet across) is the Public's primary outdoor venue. We perform in many other sorts of spaces too: Our "mobile.shakespeare.lab" performance tour brings our work to stages throughout the city's five boroughs. These jury-rigged venues—schoolyards, community gardens, church parking lots, and, for a fundraiser that ends our summer, the manicured lawn of a manse in the Hamptons—are smaller than the Delacorte, yet they present similar problems, including:
Ambient noise. The sounds of traffic, airplanes, and sirens give the declaiming human voice a run for its money. In Central Park, there's an especially vexing issue: New York nutjobs on the rocks near Belvedere Castle, who shout language so inventive that the Bard's words, when you can hear them, are barely a match.
Focus problems. Daylight is diffuse and indiscriminate. It offers lots of wonderful stuff for audiences to look at. The state-of-the-art stage lighting at the Delacorte is wondrous, but it can't help direct the crowd's gaze until about half an hour after sundown, deep into Shakespeare's Act 2.
A strange disorientation in scale. Even in the tiniest outdoor venue, something about the infinite space overhead creates automatically and unavoidably a sense of the epic and the grand, making intimate values very hard to achieve. The Delacorte's sophisticated amplification system chafes against this one. Actors there can whisper and rely on their wireless mikes and the sound technician to make them audible, but all of us who've worked in that theater know that the result doesn't always convince. It can feel like a simulation of intimacy rather than the thing itself.
These challenges are formidable. About the only thing to which they'll easily yield is the one magical X factor that's at the heart of all great acting: that special combination of energy, talent, truth, and skill summed up in the word "charisma."
On an outdoor stage, it's the charismatic actor who shines. An outdoor actor needs energy so supremely focused, so bright, that it grabs attention even in the face of wild, potentially show-wrecking distractions. Charisma does all that and more. It's a force that radiates outward, that sweeps effortlessly across great gulfs of space. It boasts self-assurance, and it broadcasts confidence and command. I've seen charismatic performers stride onto the Delacorte stage and—in the face of a full battery of helicopters, cop cars, birds, wackos, and more—defy audiences not to look, dare them not to listen. And I've seen actorly charisma tame a hundred rowdy teenagers in a Queens community garden into rapt silence when, not 10 minutes earlier, the possibility that they'd pay attention to a character in a Shakespeare play was as remote as a visit from Elvis.
Pacino needn't worry about his charisma carrying the day. But what about the rest of the world's outdoor actors, those mere mortals hath-not-a-Jew-eyesing their way through their lines as they fight the wilting Texas humidity or a deafening Kentucky cicada swarm? They can compensate for any charisma deficit the old-fashioned way: through sheer hard work.
Cool town, evenin' in the city,
Dressin' so fine and lookin' so pretty.
Cool cat, on line for a tick-y,
Gonna look in every corner of the city.
The Solutions
Dress fine, look pretty, and examine every corner. Charisma is as charisma does. Here's how:
Get your pipes and your chops into top shape. Whether or not your open-air venue uses amplification, you'll need your most robust and supple vocal instrument. Expand the bottom of your range, as it's the strong, low tones that fill the big sky. Work your final consonants and make them ping across the space like the crack of bat against baseball, that other authoritative outdoors-in-summer sound. Drive through to the word at the end of the verse line or the close of the sentence. You do it when you're working indoors; do it a hundred times more diligently outside. And if you're a director, ride herd on the cast to power through to those words at the end.
Build up your physical stamina and endurance. On an outdoor stage, nothing melts into thin air as quickly as a tentative physical choice. In particular, I've found that flabby, shabby legs—what the melancholy Dane calls "most weak hams"—will make you very simply disappear. Keep your pins energized and your feet on the ground. All stage acting is an athletic event, but outdoor acting is the Olympics. Train for it.
Play your actions with a vengeance. The directors I've seen most effectively wrangle the Delacorte resemble great sports coaches in their fanatical devotion to the fundamentals. What does the character want? What does she do to get it? What's in her way? How does she get around it? Objective, action, obstacle, adjustment. Ironically, as voluminous as outdoor spaces can be, they don't happily accommodate much beyond these basic, Acting 101 building blocks. They make you strip away the froufrou and cut to the core. Save your pet theory about Lear's secret sexual history for the 60-seat black box in Bushwick. When you're in front of a thousand chardonnay-soaked punters on picnic blankets, stick to cranky, cantankerous, and mean.
All of which is to say: Think. Loud and clear. Through 20 years of outdoor Shakespeare, from my first outdoor gig, at the Idaho Shakespeare Festival in 1988, to working a dozen shows at the Delacorte, to bringing the Shakespeare Lab to a grassy meadow at Snug Harbor Cultural Center in Staten Island last August, I've learned that no voice, no gesture, no charismatic flourish vanquishes the demons of the summer stage as thoroughly as crystalline human thought. An actor who is in the moment with his entire self, whose lines emerge not from a playwright's pen but from his own brain in the here and now, whose mind and spirit make a word-forge fueled by given circumstances and relationships—this is the actor big enough to fill "this wide and universal theater." Know your character's thoughts and think them. And think nothing else. And think them from the soles of your feet to the tippy end of the longest hair on your head. We'll hear you, watch you, laugh with you, and weep with you.
Oh, those summer nights you make will wipe away the sweaty broil and tumult, and when we sing with the Spoonful, we'll be thinking of wonders wrought by a star under the stars.
And babe, don't you know it's a pity
That the days can't be like the nights
In the summer, in the city,
In the summer, in the city.
Barry Edelstein is director of the Public Theater's Shakespeare Initiative and author of the books "Thinking Shakespeare" and "Bardisms: Shakespeare for All Occasions."