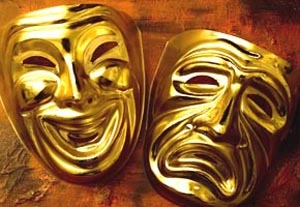 In an acting class, it's rare for actors to work on a new play. But readings of new work, developmental workshops, and world premieres happen all the time in the real world, and when you're cast in one, you often have the opportunity to put your personal stamp on the script. That's a special responsibility, and very different from your responsibility to a previously produced and published play. Discussing the nuances of your role, or the script as a whole, with the writer—engaging the playwright and the director in the most productive way possible—requires flexibility, patience, courtesy, and empathy. Those kinds of discussions can be helpful to all concerned.
Getting Permission
To what degree you are an active participant in the development process depends a lot on the director, according to Michael Gene Sullivan, a San Francisco–based actor who is also a playwright (more about that perspective later). Some directors want the actor to be a tool, not a partner. Other times, both director and playwright want feedback from everyone. It's up to them "to give you permission," Sullivan says.
If playwrights "turn to me for advice, then I can speak up," says Cassie Beck, an actor based in New York whose bicoastal career has focused largely on new work. She just finished a gig at the Humana Festival of New American Plays in Molly Smith Metzler's "Elemeno Pea," after taking part in a weeklong workshop of it last November in New York. And for the past two years she has been in a "continuing relationship" with a new play by Sarah Hammond, she says, in addition to ongoing involvements with several other plays in development. So she knows what she's talking about when she points out that playwrights invite actor feedback to differing degrees.
For example, Chuck Mee is known for being open and for encouraging actors to participate. Craig Lucas, whom Beck worked with on "A Prayer for My Enemy" at New York's Playwrights Horizons, knows what he wants but also loves actors and is open to their interpretations. Liz Duffy Adams tends to have a solid draft the first time out, Beck says.
If you're working with a writer-director like Moisés Kaufman of the Tectonic Theater Project, you know going in that you're required to participate in the development process. And Colman Domingo, who appeared on and off Broadway last year in "The Scottsboro Boys," remembers being astonished when book writer David Thompson actually put a pen in Domingo's hand and asked him to suggest a line for the script.
It's about building trust with the playwright, agree the actors I interviewed on the subject. That's why Beck doesn't cozy up to playwrights until about halfway through the process. She wants to make sure she's in the ballpark in terms of understanding the playwright's goals and vision. She first needs to know that the writer is approachable and that she has earned his or her trust.
Once you feel you have permission to comment on the script, the protocol can vary depending upon what the playwright seems to want. It's a good idea to hold off for a bit. Some actors, on the first day of rehearsal, say, "My character wouldn't say that." That undermines the playwright's ability to see on stage what he or she has been seeing mentally, says Beck.
You want to keep in mind—once again it depends on the temperament of the writer—that tact is paramount. "They've laid a part of their soul out on the page," cautions Sullivan. "Some are really touchy." He also notes that playwrights can sometimes get obsessed with one element of the script and make facile choices along the way on other elements, which is when it's helpful for actors to step in.
Ask Questions
Try commenting in the form of questions. Sullivan tends to ask broad things like "What's your goal? What's your point?" Stacy Ross, who appeared in the world premiere of Sarah Ruhl's "In the Next Room (or the vibrator play)" and workshopped Lisa Kron's "In the Wake" in Los Angeles in 2009, observes that it's important to avoid a negative approach, such as "It doesn't work when…." Negativity breeds negativity. Better choice: "I don't quite understand what's happening here. Can you tell me why she does this?"
Using this tack, Ross asked playwright Billy Aronson how her character in the world premiere of his sexy comedy "The First Day of School" differed from another character. His reply—"The other woman orgasms easily; your character doesn't"—made things fall into place for Ross. Working with Ruhl and Kron, she found the atmosphere conducive to making direct suggestions about cutting or moving words or lines.
Domingo also comments via questions. "Criticism is so delicate," he says. "When it comes to playwrights trying to find their voice or tell a new story, it's a time to raise questions," not deliver harsh judgments or complaints. Depending upon your relationship with the playwright, you can also approach the director with suggestions.
But some actors feel judged by having the writer looming over them in the rehearsal room. Or, as Sullivan observes, they worry about being perceived as troublemakers if they make comments, fearing it could jeopardize future employment with that theater, playwright, or director: "If [the play] sucks and the actor is still thinking, 'I want to work here again'…how do I say that?" Clearly, it's a fine line to walk.
Timing can be everything. As Beck points out, you don't want to make comments on the first day of rehearsal, before you've had time to really assess what works and what doesn't. On the other hand, you don't want to wait until it's too late in the process and therefore disruptive.
A Unique Perspective
But you do want to remember that you're in a privileged position. Your actorly skills are precious and unique.
"There are things in this show that I don't completely understand, because I'm not these people," playwright Robert Alexander once told Sullivan. That's an example of a writer trusting the actors to provide insight that may at times elude him. Joan Mankin, working with playwright Martha Boesing on her new play "Sylvia's Advice on How to Age Gracefully on the Planet Denial," knew that the mind-body connection she possesses as an actor is the most valuable thing she can bring to the development process—not just an intellectual opinion, but a feeling for how the character enters her body.
Beck describes a dream scenario for actors: Playwright Sheila Callaghan, struggling to rewrite a scene, said to her, "You're living inside the character. What do you think happens?" Beck took her query seriously, reread the scene, and responded honestly, then Callaghan was able to finish writing it. The playwright trusted the actor to help her unblock something; the actor trusted the playwright to finesse it to the end point.
Putting on his playwright's hat, Sullivan comments on his experience at readings of "Recipe," his new play in development, most recently in November at the Actors' Gang in Los Angeles: "With this particular show, everything has been helpful. Where the actors had questions, when they had to make an emotional leap—anything I had to explain meant I'd written it wrong. If an actor can't remember a line, it's the line's fault." One of his big concerns, as a man writing a play about women, was "Are these women acting like guys?" He was relieved when the cast said no. He watched the actors' faces carefully during the reading to note where they were surprised, where they were invested, and whether they were saying the lines just because the lines were there or because they were really invested in them.
When Sullivan says that some writers take all critiques to heart and feel like they have to please everybody (an impossible task), that's a caveat to actors: What you tell a playwright may not be useful in the end, may not resonate with the writer's ultimate goal or vision. And, as always, telling the playwright's story is what it's all about—whether he or she is six feet under or sitting nearby on a folding chair with a pencil and a frown, or a smile.