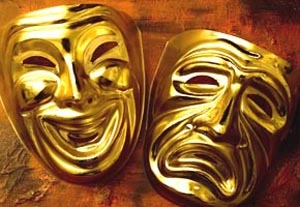 Every role, every creative situation, every professional job—whether on stage, in front of a camera, or at a microphone—is unique and requires you to use different tools from your actor's toolbox.
Toolbox
is simply another name for technique: It enables you to do multiple performances or multiple takes, each one personalized and presented as if for the first time. When used correctly, transference (also called substitution) can be a very effective tool for achieving personalization, as it can serve as a bridge between imagination and personal experience. Ultimately, everything an actor does must be personalized. You must make the audience believe that your character has no choice but to say and do the things he or she does and that they're being done spontaneously. Spontaneity and inevitability are thrilling to experience and to observe, and creating them is an actor's job.
Do Your Homework
A human being attempting to navigate through an event, conflict, discovery, decision, or crisis is compelling to watch. An actor creating truthful human behavior can be compelling too, by using technique to live in the middle of a fictional event and the text to navigate through it. Yet I often see actors keeping themselves on the outside, essentially reporting on the event like a news reporter hovering above in a chopper.
There are two issues here: imagination and personal experience. First, the writer provides a script, with a structure and a variety of specifics. Some of them are immutable facts and some aren't. This is where the actor's imagination is crucial. How do you fill in the details the writer didn't provide and still honor the writer's intent? A smart actor does homework, first researching the nonfictional names, places, events, and so on in a script, then "researching" and making specific the fictional circumstances through imagination and personal experience. The character must have a clear, specific point of view about his or her circumstances. This is where personalization comes in.
Before I continue, I want to address the issue of emotional "obligation." If you're working correctly, you won't fall into the trap of melodrama—which comes from trying to force an emotion—even if the director tells you what emotion he or she wants. As long as you know how to translate "result direction" into something specific and actable, the appropriate emotion will follow. Human beings aren't neutral about anything. Everyone has some kind of emotional point of view dictated by the circumstances of the moment. And every action a person takes to achieve a goal is emotionally driven. This is why it's so important to understand the specifics of your character's circumstances as soon as possible, so you can go beyond simply knowing the facts and make a leap of faith by living in the circumstances. This is what children do so easily and joyously: They know instinctively how to play make-believe.
Again, I'm not talking about playing an emotion. Emotions are fluid; they're constantly coursing through us. Emotions take us along for the ride; we don't take them. But once you've clarified and set in motion all the things you
can
control—your character's point of view and the circumstances connected to time, place, relationships, etc.—then you'll be able to do multiple takes or performances without worrying about any emotional obligation. The emotions will travel organically and freely, and they'll always be alive and a little different each time, because you won't be trying to re-create an emotional roadmap. Preplanning and self-directing only keep you in your head, preventing you from being fully present in the moment.
Firepersons of Emotion
And here we are at personalization. Though it's human nature to avoid crisis and conflict, actors can't do that. They have to face the fear. I call actors "firepersons of emotion": While everyone else is racing from the burning building, actors are storming it. To accomplish what I've been talking about requires an actor who is "tenderized," meaning his or her inner self, the emotional nerve endings, is in a heightened state of awareness, able to be affected by any number of things. This works in conjunction with your heightened sensory awareness of the world around you. Sense memories and sensory experiences are the best way to initiate and connect to a truthful emotional life. This is what personalization is all about. Your "inner objects," as Uta Hagen called them, must be as specific and potent as your "outer objects": You cannot separate your external, physical life from your internal, emotional-psychological life if you're going to create a multidimensional human being navigating the circumstances of the script.
Transference (I prefer this term over
substitution
because it feels more active) can be one of your most effective tools if you understand how and when to use it. It is crucial that you personalize the script's fictional circumstances by using your own life experiences—the good, the bad, and the ugly—along with your character's point of view about those circumstances. These are your resources for transference. For example, let's say you're having a problem personalizing a relationship with one of the characters in a script. You can take a relationship with someone in your own life—a relationship you understand emotionally—that parallels the relationship and character in the script and
transfer
it onto that fictional relationship, bringing it to life, which then authentically leads the characters into action.
Remember: Transference only fully works when it's used to send your character into action. If you fully believe in the fiction, if your imagination is cooking and your instrument is tenderized, then go for it. Make the leap! Imagination and personal experience go hand in hand, and transference is often the bridge connecting them, leading to successful personalization.
But no matter what, you can't be doing your homework or preparation or focusing on a technique (one you might not even need) while performing the scene. Technique is what allows you to successfully make the leap, to act as if for the first time every time. Preparation and structure give the actor the freedom to rehearse effectively and perform with thrilling spontaneity time after time.
Marilyn McIntyre has been a member of Equity, AFTRA, and SAG for over 30 years, working in theater, film, and television. She holds an MFA from Penn State and a BFA from the North Carolina School of the Arts, has studied at HB Studio in New York, and was in Uta Hagen's master classes in Los Angeles. She is featured in the DVD
Uta Hagen's Acting Class
doing Object Exercise #10, Historical Imagination. She is currently on the faculty of Cal State–Northridge and the
Howard Fine Acting Studio
, where she teaches Personalization I and II and Scene Study, and is also a private coach.