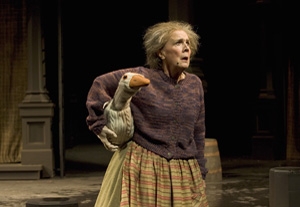 We all know the pressures women are under in our society: to look young, thin, and beautiful forever, even more so if they're actors, especially in Hollywood. But what about the craft itself? How do older women relate to the ages of their characters? And what do they know now about the craft of acting that they didn't know when they were younger?
Commit and Believe
Kathleen Chalfant, a 65-year-old New York–based stage, film, and TV actor, says, "I don't have anything like as many theories about acting as I used to. If you commit to the character and believe what you're doing, audiences will believe almost anything." That goes for playing older than yourself. Last season Chalfant played a 96-year-old Armenian woman, without age makeup, in the play "Red Dog Howls" in Los Angeles. "I suppose I slightly accentuated it, but not all the time," she says of the character's age, just "the kind of physical things that happen to all of us, the transitions—you hitch a little bit when you stand up." She found that the audience, largely Armenian, never questioned the fact that she is neither 96 nor Armenian. (And the critics raved about her performance.)
"Of course it's different in movies and TV. It's close up, and either you do vast amounts of surgery or you look 110," Chalfant adds. "The stage is a different matter." Nowadays when acting, she says, she just makes believe and sees what happens.
Part of her new perspective on the craft came when an actor friend had a series of heart attacks resulting in brain damage. Despite not being able to retain lines due to short-term-memory loss, he can still act—and beautifully—in movies, where he doesn't have to remember lines for long, or simply reading a poem aloud. Seeing him made Chalfant realize that acting talent is indeed a mysterious gift. Regardless of the character's age, she says, "If I believe I am this person, I can make others believe. And if I don't, I can't." In a way, it's as simple as that.
The Value of Life Experience
For some, older age brings certain attributes that can deepen a performance. Abigail Van Alyn has observed in herself an increased sensitivity in general. "You're at a point where there's been so much loss, and you know there's more to come," she says. She finds herself crying more, she's more thin-skinned, and she has also observed such emotional sensitivity among people in a senior center where she has volunteered. She says that if older actors are lucky enough to have their memory intact, and if they have the guts, they can really use that sensitivity to enrich their acting.
Similarly, when Kandis Chappell, a veteran of the Old Globe in San Diego, appeared in "Collected Stories" for the fourth time last year (after having first played Ruth in the Donald Margulies play in 1997), people who'd seen her in the role previously told her that her performance was much richer now. "I thought I was doing it exactly the same," she says. She figures it was her life experience that made the difference.
"Age comes out of character," observes Catherine Coulson, who has worked at the Oregon Shakespeare Festival for 17 seasons. "It's not about putting age on top of the character. Let the character feed you into the age." She was in rehearsal to play Big Mama in "Cat on a Hot Tin Roof," a character meant to be in her early 60s, an age that Coulson is "approaching," she says. But the ungallant Big Daddy refers to his wife as "old," and nowadays 60s is not old. (I can, ahem, attest to that.) Nor will Coulson play Big Mama as stereotypically old in any way. For Coulson, text and character come first; age will organically show itself as needed.
Years ago, in another Tennessee Williams play, "The Night of the Iguana," which premiered on Broadway in 1961, Chappell—who at the time had just turned 40—played Hannah Jelkes, who calls herself a New England spinster pushing 40. Chappell was aghast at the differences in attitudes toward age back in 1961 (or perhaps in 1948, when Williams wrote the short story upon which "Iguana" is based). Hannah feels she's past it all. "We've come a long way, baby," says Chappell. She guesses the 1960s changed society's perceptions of old age. Forties are the new 20s and so on.
Chappell notes that she's often sought to play characters 10 years older than herself, but rarely to play 10 years younger. "It pisses me off!" she declares. "It took me a long time to become a leading lady. I think I'm leaving leading lady behind and going into character actress kicking and screaming all the way."
Van Alyn throws out a challenge to playwrights: "People aren't writing interestingly for older people! Don't base characters on the old lady down the street. A lot of plays read as if the writer has never met an old person." She knows the problem is endemic in our society—she refers to the "invisibility wall" that goes up around women somewhere around their mid-50s. "Men get interesting-looking, and women get 'ugly,' " she says. A Southerner, Van Alyn has always had respect for her elders and never herself been afraid of aging. She thinks it's her good fortune to have grown up around interesting older family members. "If the character is thought to be tottering, you figure out why," she says. "It's not because she's old; it's because something specific happened."
Don't Play Age
It was a particular challenge for Michele Shay to play the role of Aunt Ester, who is supposed to be 285 years old, in August Wilson's "Gem of the Ocean" in 2006. "I'm playing her somewhere between 80 and 90," Shay told me back then. "I look at black women older than that as spry and cute, little jewels of human beings. Hopefully, I can capture that, that ancient feminine wisdom that nurtures us and we thrive on."
Now the biggest change in her view on playing old people is that you should not play age. "The person that is old is constantly pushing through age," Shay writes in an email. "The life force is insisting on shining through the obstacle of the body. So look for what the attitude is about life, and one physical challenge to deal with ('In spite of the fact that my knees hurt, I will…'). Find the center the character operates from in the body and practice the rhythm of walking/being from that center. Also the eyes; one sees from a deeper place within the eyes as one ages."
Looking back on the way she used to play older characters, San Francisco Bay Area actor Joan Mankin says, "I'd try specifically to make them have trouble moving, the voice kind of crackly—the physical characteristics of someone having a hard time moving, talking, maybe breathing." Now, at 61, she just plays herself, but older. As a New Vaudeville–style physical performer and clown as well, she says, "My age is defined by my physicality. When I stop being able to do handstands and ride my bike and go swimming, then I'll start feeling old…. In some ways, it's like I just use everything, all my capabilities and powers and physical knowledge, and I'm not afraid of using it as much as I want to, because I know I'll still be old. I don't have to pretend I can't move. I can celebrate being old and still able to do all these things."
She adds, "When you play an old person when you're young, I don't think there's a sense of the enormity of growing old—the grief, death. So you play stereotypical ideas of what it is to be old. But at our age, you can't do it that way, because it's close to you. I play myself, and I have the sense of what it actually means to grow old, and that colors it; that brings a whole different awareness."
As Shay says, "Age is an inside job of conserving one's energy while declaring loudly, 'I am still here! Don't count me out!' "