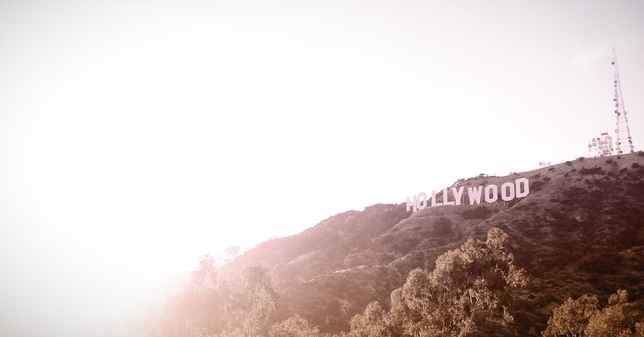 First of all, congratulations on actually making it to the hub of all things TV and film. It's no small task to pack up, move, and go after your dreams in the place where a million other individuals are striving for the same thing.
Before I moved, I was a big fish in a small pond in Louisiana where I'd had success. But I knew my soul was pulling me west. I knew I'd be a little fish in a giant pond in Los Angeles, but the challenge and excitement and fear of it all was too much to pass up. So I did it. And now I want to share the three ways I found lasting career success in City of Angels so you can too.
1. Refuse to wait until things are perfect.
As cliche as this sounds, it's the best advice: Waiting for perfection is the reason a lot of talented people never achieve their dreams. They wait and wait and wait until all of their opportunities pass by.
When I decided I wanted to move to L.A., I thought I needed a ton of money in the bank, a nice place to stay, and other luxuries. Boy, I was so far from the truth! Because here's the thing: When you truly want something, the universe will conspire to bring it to you. It will also meet your needs if you truly trust and have faith that you're on the right path. This acting thing is not only your career, it's your purpose. Believe in that at all costs; fortune favors the bold and courageous!
I was out meditating on the water one day when I got the intuitive nudge to leave New Orleans for Los Angeles. I only had $300 in my checking account and my family thought I was nuts for chasing this wild Hollywood dream. But over the next few days, it was as if everything fell into place: my aunt who lived in North Hollywood offered me her couch, I came into some money, and I began to realize deep down that this was the right thing for me. I pushed through my fear and thirty hours later, I was in Los Angeles.
I see a lot of actors stuck, letting technical things get in their way: my headshot isn't perfect, my resume isn't long enough, I don't have any connections. But sometimes all we need is an intention for a perfect, divine plan to unfold. Stop allowing yourself to get stuck on technicalities—they keep you on the opposite side of success.
The first time I booked a lead in a movie, I walked into the production office with a headshot I'd taken at Walgreens for $2.99. I can laugh about it today, but I'm also happy to share it because it proves that ultimately you book the gig, not your picture, not your resume, not your connections, YOU. Remember this when you start to question if things are perfect enough to start. The only perfect time is right now.
READ: Why You Absolutely, Positively Need a Mentor
2. Find a coach or mentor.
When I was starting out, I had too much success too early. It sounds nice, but the drawback was that I thought I knew it all. This is a dangerous place to be as an actor because it means you're unwilling to take advice or direction, two things paramount to the craft of acting.
When I finally admitted I was having trouble, I sought out coaches and mentors who represented the success I wanted to achieve. Take classes, invite people to coffee. If money is an issue, figure out what you're good at, be willing to barter that gift, and start reaching out; both parties will get what they need and you can build amazing industry relationships.
Find yourself a mentor who can help you not only further your career, but make you a greater individual all around in this business. You are worth it. And remember, things don't have to be perfect, start today.
3. Make mistakes.
One of the most important men in my life once told me, "The person who makes the most mistakes will likely find the path to success before the one who refuses to start." The more you see as an actor, the more confident you become about the direction you need to go. Every day, try at least one thing that's going to familiarize yourself more with the direction you want to move in.
Maybe you went with the wrong agent. Think about what you've learned from the experience and prepare your energy to find another one who is a better fit. Maybe you've outgrown your acting class. No problem! There are a ton of other ones in L.A.
Your evolution is what ultimately matters. When you mature off camera, you mature on camera. Your essence resonates with everything you do and everything you are. Producers, directors, and casting directors want that, they want you! Refuse to let overthinking get in your way—just jump in and see where it takes you and always ask, "What is this trying to teach me as an actor? What have I learned from this experience that can help my career?"
From this point on, realize that mistakes are just life's way of redirecting you towards the fulfillment of your career. Embrace them like that lead role that is sure to be coming your way.
So if you're in L.A. or are thinking about moving, remember that as much as it may seem like success is difficult, it's actually a straightforward, strategic process that returns exponential dividends when you refuse to give up and always ask the right questions. Your passion will power you forward and you'll figure things out. Why? Because this is your purpose! This is what you were not only placed in this town for, but what you were put on this earth for.
Shaun Grant is a dynamic "entreperformer" that is a recognized authority in personal performance and transformation. He is the author of "Prosperity Secrets: How To Live the Life of Your Dreams." He is also the creator of The Vibrational Actor and hosts his own podcast called The Actor's Area. Shaun has been acting, writing, and coaching for the past ten years. He teaches the concept of vibrational acting and vibrational consciousness to performers around the world. His soul purpose is to inspire, uplift and motivate actors through cutting edge mental and spiritual practices. He's at his happiest when his students experience successful breakthroughs in mind, body, and spirit as it relates to their acting careers. Shaun has acted in over forty projects, working alongside some of Hollywood's brightest stars, and has written and produced his own projects as well. When Shaun isn't acting, writing or coaching, he enjoys engaging in his love of travel and creating life-changing content through his blogs.
Visit www.shaungrantacting.com and www.uplifterentertainment.com for more career information. Find Shaun on Facebook, Twitter, and Instagram.
Now check out our Los Angeles audition listings!
The views expressed in this article are solely that of the individual(s) providing them,
and do not necessarily reflect the opinions of Backstage or its staff.