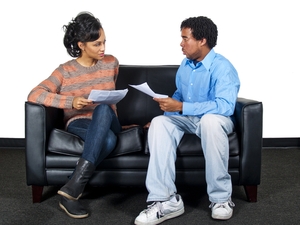 Agents and managers are always on the lookout for new talent. Whether we have a specific project in mind or are just looking to fill an age group, we are always hungry to meet undiscovered actors. I recently held an open call looking for new clients. We gave people a four-hour window and asked everyone to bring a picture and resume if they had one. I found a few diamonds in the rough who I signed on the spot, a few that I was on the fence about, and many who were not what I was looking for. I thought about it afterwards and made a list of what the people did that made me interested. Here is a list of things to remember for your next interview or open call.
1. Smile! Parents, remind your children to smile! The interview was basically over before it began for the kids (and young adults) who came in looking like they were going to have a root canal. I want you to come in the room like you own it! A big friendly smile and great energy is a fantastic start to any interview. Confidence at any age is attractive and makes me sit up a little straighter and pay closer attention to what you are going to say next.
2. Bring a picture and resume. When the instructions ask you to bring a picture and resume, please bring a picture and resume! I understand newer actors don't have professional headshots, but please have someone take a clear, close-up picture of you smiling, and looking into the camera. When I go home later, after seeing hundreds of people, I will not remember what you look like without a visual aid. Same thing goes for the resume. I don't expect to see professional credits on there. The resume should have all of your contact information so we can reach you with any skills you may have (bike-riding, Tae Kwon Do, hula-hooping, ear wiggling, swimming, etc.) and any extracurricular classes that you have taken, with whom, and for how long you took them. For example: "Guitar 3 years Joe's Music School" is how it should look on the resume.
3. Be prepared. Be prepared to do a monologue, a cold-read, or sing a short piece. One of the children that I saw that day was an adorable 11-year-old girl. Her resume was all about her singing and her extensive music training. I asked her to sing something for me and she said no. I asked her why not and she said, "It's too hard." I thanked her for coming in and that was the end of her opportunity with us. Let the kids know in advance what may be asked of them. Anyone who lists singing on their resume should be prepared to sing a song that best showcases their voice at the drop of a hat.
4. Sell it! When doing the cold read for a commercial, remember that you (or your child) is selling something. Please don't read it in a monotone voice. The cold read commercials are usually only a few lines. We love it when you memorize them or at the very least try and look up from the paper as much as possible. Everyone should have a monologue ready—something in the 1-2 minute range. Try it out for everyone you know and get opinions. Is it boring? Am I showing a range of emotions? Am I doing it well? Is my strong suit comedy or drama? Shocking doesn't equal good. You may think that shouting obscenities is edgy, but it really has to be in context with the piece and make sense.
Above all, be yourself and have a good time! You may be nervous, but in the context of life, what's one interview?! Go in confident, happy, and do your best. This will serve you in all aspects of life, not only your acting career. Remember, we are rooting for you!
Jackie Reid owns and operates L'il Angels Unlimited, a talent management company, which specializes in young actors for placements in film, television, theater, commercials, voiceover, and print media. She works extensively with agents in New York and L.A. She possesses an excellent eye for talent that both casting directors and agents value. She understands what it takes to support young actors as a stage mom to two children, one of whom currently plays Sinjin on Nickeldeon's hit series "Victorious." Follow her on Twitter @LilAngelsTalent and like her on Facebook.