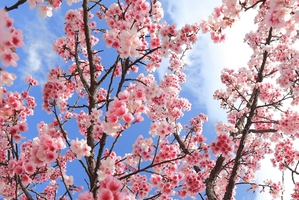 As the flowers start blooming and we put away our snow shovels, we see that spring has finally sprung! What does this mean for you and the entertainment industry? It means there are now new tips for auditioning!
1. Sunscreen, sunscreen, sunscreen! I cannot say it enough! You cannot have a tan or burned skin in the summer at all! If you are auditioning for a commercial, it most likely would not air until the fall or winter, and the tan would be out of place. At best, you would be diminishing your chances at booking that spot and at worst you would be ruled out entirely. Please slather on sunscreen every time you leave the house, especially when you will be out in the sun for a long time. Besides helping your career, your skin will thank you when you're older.
2. Dress appropriately. Even though the weather is gorgeous, please do not show an inappropriate amount of skin. Unless you are asked to wear a bathing suit, the most amount of skin you should display should be shorts and a tank-top. Regular shorts, not booty shorts please. This applies to men and women.
3. Take classes. School is out, leaving much more free time to improve your craft and get some more training on the resume. Training is the second thing that casting directors look at, after experience. Taking classes with well-respected teachers goes a long way to getting you in the door when you have no or few credits. Many places offer intensive camps during the summer, allowing you to get more training quicker.
4. Update your tools. Check your resume and make sure all of your credits and classes are up to date. Make sure your sizes are correct, your credits and skills are up to date and you have your most current pictures listed on your Backstage profile.
5. Reach out to your rep. Summer is typically slow and is the perfect time to connect with your agent and manager and discuss your career. Go over what goals you share and let them take a fresh look at your pictures and resume. Ask for any advice they may have for you going forward.
Jackie Reid owns and operates L'il Angels Unlimited, a talent management company, which specializes in young actors for placements in film, television, theater, commercials, voiceover, and print media. She works extensively with agents in New York and L.A. She possesses an excellent eye for talent that both casting directors and agents value. She understands what it takes to support young actors as a stage mom to two children, one of whom currently plays Sinjin on Nickeldeon's hit series "Victorious." Follow her on Twitter @LilAngelsTalent and like her on Facebook.