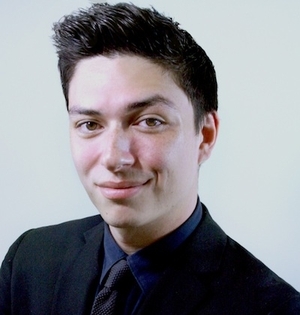 You can practice all day long in front of a mirror, but when the cameras roll, you can sometimes get lost in the interview. Here are some tips to have a successful on-camera interview while appearing confident.
1. Avoid word fillers. Whether you're being interviewed or acting on-screen, your "uhs" and "ums" are amplified, since the audience is following your words. These are usually classified as a sign of lack of confidence, mostly because they are space fillers that people say when they are uncomfortable with silence.
2. Wait three seconds. Even if the cameras are rolling, be sure to take a moment to breathe before answering a question. This gives you time to collect your thoughts, and it keeps you relaxed. If you're flustered, it will show, and it will affect the dynamic between you and the interviewer, causing for a botched answer.
3. Follow the light. Be aware of the light fixtures and where they are facing. Depending on your stance, make sure your posture is straight and you're maintaining eye contact. If light is directly in your face and it is hard to see, speak up. Producers aren't going to mind adjusting it before the cameras roll. It's only mid-way into an interview that it would become an issue because of consistency, so make sure you're comfortable.
4. Jive with the interviewer. Keep the interview organic and fluid—you don't want to give one word answers, and you want the conversation to be appealing. Also, take initiative. If the interviewer isn't asking questions that are interesting, you can always redirect their question to hit some of your power answers. Power answers are answers that, when timed correctly with a question, encompass an interesting answer and a short anecdote about you that shows off your character and personality.
5. Keep focused. It's always easy to lose your train of thought and forget what the interviewer had asked you, so repeat the question in your head a few times. This ensures that you remember the question, but most importantly, that you can speak a little longer and not get lost in the abyss that is your mind. Also, it looks good that you can answer a question that is asked without venturing too far from it—the interviewer will have you elaborate if needed.
Garrett O. Thomas has been working in public relations for several years. He lived in Tucson, Arizona where he focused on restaurant publicity, combating restaurant foreclosures during the economic recession in 2008.
Eventually, he moved to Houston where he began working in technology publicity. Promoting software and online publicity integration for Fortune 500 companies. After handling more than 12 contracts and overseeing hundreds of thousands in contractual agreements, he decided that he wanted to progress his career into the entertainment industry.
He got a job as a celebrity publicist for Def Jam artist, Jeremih in New York. While Garrett collaborated with Def Jam and CAA, Jeremih received a Billboard Awards 2012 nomination for Top R&B song. From that point on, Garrett has worked with musicians, actors, and producers, promoting brands and educating them on his publicity knowledge and increasing his reach into a variety of areas in the entertainment industry.
You can follow Garrett on Twitter and friend him on Facebook!