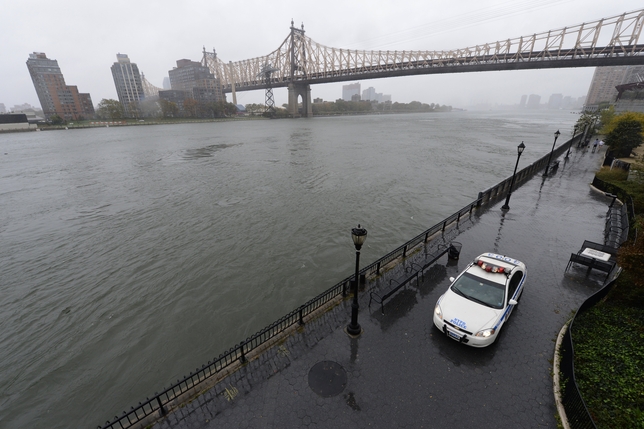 The bright lights are unusually dark here in New York while Hurricane Sandy passes through. The mass transit system has shut down and most offices are closed for the next day or two. This situation got me to thinking: How can actors work on their craft while stuck inside? Whether it is hurricane or a sick child keeping you home, we all have days when we can't leave the house.
While your first priority should be the safety of you and your family, if you find yourself with some free time, why not take advantage of it and find a productive way to fuel your craft? Here are five ideas to help you find some new, creative inspiration.
1. Write a monologue. Need a new monologue? How about writing your own? Many of my students complain about material getting stale or worry about overdone pieces. Even if you've never written before, try and remember a funny or moving story in your childhood. Truthful, honest, and real narratives will be grist for the mill.
2. Watch a film. Rent a movie you've never seen before. Skip Spiderman. Go for one of Oscar's faves. Check out this classic list from the AFI or check out an indie classic here.
3. Read. Online or in print, it's not difficult to find good reading material. Break out or download a copy of Michael Shurtleff's book, "Audition," and focus on the 12 Guideposts. This will really sharpen your audition skills. Or read a Backstage article on the business of show business. You can always pick up a tidbit or two that could be game changing for you.
4. Develop a business action plan. Acting is a business. And like most successful businesses, you need a strategic action plan to succeed. Make sure to check self-submission sites, such as Backstage, daily so you don't miss out on casting opportunities. Be current with your picture and resume. Create lists of casting directors who accept pictures and resumes and scour the Internet for workshop and performance opportunities.
5. Tap into your emotional energy. Flooded with feelings? Are you experiencing panic as the news reports on devastating destruction? How about obsession with checking different weather channels every five seconds? Maybe you are feeling loneliness or sadness. Don't let this moment pass you by. Stop, notice, and recall. Whatever you are feeling, channel your emotional life and sock it away the next time you need to access it.
If you still have power and are able to read on, congratulations! You are one step closer to success. Don't ever stop learning and challenging yourself. We all get bogged down by life's daily distractions. Embrace this opportunity as you take some quiet time for yourself and your career. Master your craft, empower yourself, and enjoy the journey.
Denise Simon is an acting coach and career consultant who has been involved in the entertainment industry for more than 25 years as an actor, teacher, director, and personal talent manager. For 10 years, she was an associate with Fox Albert Management, one of the leading talent management companies in New York, where she managed such clients as Scarlett Johansson, Academy Award winner Mira Sorvino, Lacey Chabert ("Party of Five"), and Judy Reyes (NBC's "Scrubs"). Denise has coached hundreds of children and young adults appearing regularly on Broadway and in television and film, as well as educating parents on the business of show business.
You can visit Denise on the web at www.simoncoachinggroup.com and like her on Facebook and follow her on Twitter.