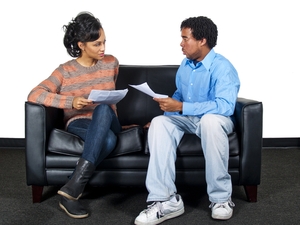 Have you met someone who has been at this for a while and not booked anything? Or met someone who booked something almost immediately? What happens when you book something right away and then nothing for a while? Why does that happen? How can you not let yourself get discouraged or paranoid or start to feel like you don't have what it takes to succeed?
One of my clients is a young boy who booked several commercials very quickly after signing with us, but has been in a slump for almost a year. He is very discouraged and has talked about quitting. His dad asked me to talk to him and try and figure out what is going on. We met for about an hour. The boy, let's call him Jay here, was still as gorgeous and full of personality as he was the last time I saw him. He is extremely well-spoken, personable, and very likeable—likeability plays a big part in the casting process. His hair looked good. His teeth looked good. I brought a script for him to read for me. The first time he read for me, his read was full of energy, personality, and confidence. He could literally sell you anything. This time around, his read was stilted. He was worried about getting all the words right and not about putting emotion and belief into what he was reading. With a pep talk and some practice, he got the read back to where it should be. His dad promised to work him more on each script. In his case, it was matter of getting back on track with practice and having a parent work diligently on each script with him, so that he is comfortable with the words and the message that needs to be projected. I'm not talking about over-coaching to the point where he sounds like a robot, but coaching to the point where he isn't worried about how to pronounce a word.
I also represent an amazing adult actor who we met at Actorfest this past year. Let's call him Dave. One of Dave's first auditions landed him a great role in a JJ Abrams pilot. He's gone on a batch of auditions since then, and he hasn't gotten any bookings since. I can feel his anxiety when we talk on the phone. His confidence is definitely not where it was after he booked that job. He told me that after that first booking, he felt like he could conquer the world. Now he's feeling insecure and wondering if that first time was a fluke. I recently heard from someone who Dave met that he walked in the door almost apologetically. Dave is literally one of the most talented guys I have ever met, and I have no doubt he will be thanking me in his Oscar speech one day. But right now he needs to fake the confidence when walking into the room. He doesn't need a cocky, obnoxious swagger, but he needs to go in the room projecting the confidence that he's the man for the job.
My daughter Ashley booked the first audition that she went to. It was a TV commercial for Cabbage Patch Kids. She booked the second one, which was a print job for Carters Clothing. She quickly booked another commercial for Gerber Baby Food. Her dad and I were ecstatic. This is so easy! Why doesn't everyone put their kids in this business?! Then a month passed without a booking. Then six months. Then a year. Then four years. Yes, four years of driving to the city, parking in expensive parking lots, and paying for gas and tolls and snacks and reward toys.
Ashley continued to enjoy the audition process. She liked the way we sang in the car together on the way to auditions, and she liked playing with the same kids each time. And she especially liked the small toy she got to pick out after each audition. My family and friends thought I was crazy to continue. "Why are you wasting your time??" "Why are you wasting her time?!" We ignored the naysayers and continued to audition. Then she booked a Burlington Commercial, and then a Mass Mutual commercial. That year alone she booked 21 commercials and 79 print jobs. She ended up booking more than 60 commercials and more than 500 print jobs before quitting to play high school sports. I wasn't savvy enough back then to have her take a class or sit down with her reps to have it analyzed. I think she just grew into her own.
My point is that you shouldn't give up. I understand when you don't book for a while, that you start to feel bad. We understand and we believe in you. When your rep believes in you, we will ride out the lull with you as long as you are still cooperating with us. I don't drop people for not booking, I drop them for not updating their profiles, not keeping current headshots, and not attending the auditions that we secure for you.
Jackie Reid owns and operates L'il Angels Unlimited, a talent management company, which specializes in young actors for placements in film, television, theater, commercials, voiceover, and print media. She works extensively with agents in New York and L.A. She possesses an excellent eye for talent that both casting directors and agents value. She understands what it takes to support young actors as a stage mom to two children, one of whom currently plays Sinjin on Nickeldeon's hit series "Victorious." Follow her on Twitter @LilAngelsTalent and like her on Facebook.