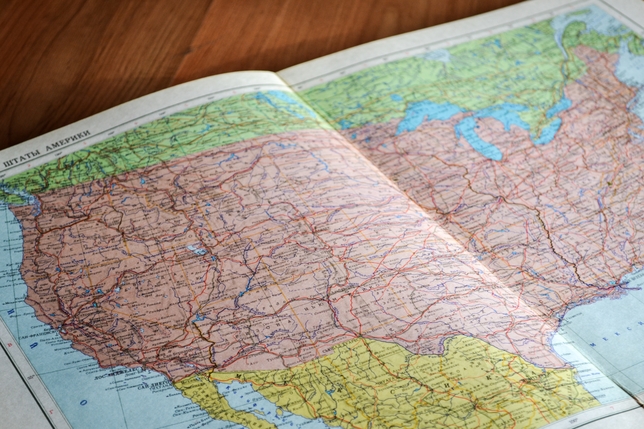 I'm from California and when I started modeling, I found myself traveling back and forth, coast to coast, so much so that it began to feel like I was living two completely separate lives. I quickly came to the understanding that it would be difficult for me professionally to remain in one location on only one coast.
"What's it like constantly traveling back and forth?" "Do you prefer one coast to the other?" "Have you ever wanted to stay on one coast permanently?" People asked these questions and more constantly. The thing is, the hard parts of being bi-coastal are in direct proportion to the best parts. So I thought I'd talk a bit about what this bi-coastal life is like and the main issues I've had to cope with if you're thinking of giving it a try.
The Joys
Traveling from California to New York and back again is exhilarating! Every time, I make new friends and am presented with opportunities and work. It's a wonderful feeling to make more connections and be part of an ever-widening community.
At any given moment, I am subject to travel, often completely unexpected and unplanned. This makes life and work hard but it can also make it exciting. Having things constantly changing and evolving keeps me on my toes and gives me the opportunity to change and evolve as well.
READ: What Every New Model Should Know About Casting
The Sorrows
I suppose the good and bad effects of so much travel would differ from person to person, but these are my personal struggles and what I have done to make the best out of the hard times. (Yes, even traveling models can have a tough time with it!)
1. Relationships: I'm not much of a loner; I have a tendency to become very attached and invested in people, and it doesn't take a lot to earn my loyalty. This can become an issue since, inevitably, I am always missing someone.
2. Lifestyle: Anyone who has been to California and New York City knows that each location offers a completely different kind of life—a completely different world, really. In California, I have my own room, bed, shower, and closet. I have my own space and a piano. I have my family and hometown friends. NYC, on the other hand, is almost the complete opposite: Often I have no room to myself and not much privacy. But the city environment is so intoxicating that it makes up for it. The trick is learning how to manage your lifestyle so you can flourish no matter where you are.
3. Settling down: My overall goal at the moment (which I've had for some time) is to be based in NYC. I can see myself living there and really becoming a New Yorker even though I'd never lose my California vibe. But this is no easy task when simultaneously building careers in the singing and modeling fields, which means I'll continue to bounce between the coasts as my careers blossom.
I don't know for sure where I'll wind up or how much I will be traveling in the near future. And I wouldn't feel comfortable telling an aspiring model which coast they should live on or how they should manage being bi-coastal—it's quite personal and hinges on any number of opportunities.
But I can say that although carrying on a bi-coastal life isn't easy, I am extremely grateful for the amazing opportunities I've experienced, and friends and memories I've gained as a result.
Trevor Drury is a musician and international model who's graced the pages of Details Magazine and worked with such notable designers as Hermes, Robert Geller, Timo Weiland, and Malan Breton. Trevor walked the runways for Tom Ford and served as the face of the brand's beauty and 2016 holiday campaigns, as well as Mac Cosmetics' Halloween campaign. He's represented in New York, Los Angeles, Paris, Milan, London, Miami Beach, Denmark, and Barcelona. Trevor's musical influences include artist like Radio Head, Harry Styles, and Elvis Presley—the wide range of genres likely responsible for his unique sound and style of writing. Drury's first album, "The Start," was released in June 2016. And his latest album, "A Year Of My Life," will be released later this year. For more information on Trevor, please visit officialtrevordrury.com.
Get all of your modeling questions answered by peers and experts on the Backstage Community forums!
The views expressed in this article are solely that of the individual(s) providing them,
and do not necessarily reflect the opinions of Backstage or its staff.