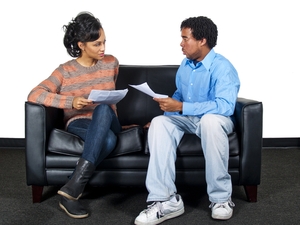 Four years ago, my son was given a last minute audition for a television show that had not yet aired. The audition was for one line in one episode. Mikey had a guitar lesson scheduled at the same time, and I thought about passing on the audition. It was only one line in one episode on an unaired show that I knew nothing about. If I cancelled his music lesson, I still had to pay for the lesson. Ninety-nine percent of me wanted to cancel, but the one percent of me that said, "Don't pass up any opportunity" won out.
Mikey went on the audition and booked the role. The role was for a character named Sinjin and the show was Nickelodeon's "Victorious." As Sinjin, Mikey appears in almost EVERY EPISODE of the show's run, and "Victorious" became a multiple Emmy-nominated show and one of the most popular children's shows to air on television.
The point is you never know! If I had passed on this, Mikey would have missed out on being on this amazing show, the great relationships he made with the cast and crew, and the invaluable lessons he learned on comedy, stunts, acting, and life, along with so many other things.
If your agent or manager gives you an audition, go on it! It doesn't matter if you think you are too tall or too blonde or too fat or too good to do one line. You never know where any opportunity will take you. My son is living proof of that.
If your agent/manager has submitted you, and the casting director gives you a time to be seen, don't waste the opportunity! Cancel that music lesson, take an aspirin to get rid of that headache, just do whatever it takes to get yourself in front of that casting director. Because you never know!
Jackie Reid owns and operates L'il Angels Unlimited, a talent management company, which specializes in young actors for placements in film, television, theater, commercials, voiceover, and print media. She works extensively with agents in New York and L.A. She possesses an excellent eye for talent that both casting directors and agents value. She understands what it takes to support young actors as a stage mom to two children, one of whom currently plays Sinjin on Nickeldeon's hit series "Victorious." Follow her on Twitter @LilAngelsTalent and like her on Facebook.