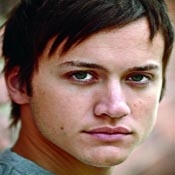 More than ever, actors are getting tired of waiting around for other people to cast them and are taking matters into their own hands. Talbot Perry Simons realized he had the potential to direct his own feature film after an improvised scene about Vietnam vets received applause in his acting class. Once the instructor, Pat Randall -- who received casting and story credits on the film -- gave Simons her blessing to write a screenplay based on the improv, Still the Drums was set in motion. The unconventional mystery, set 39 years after the Vietnam War, involves three friends and former combat Marines who reminisce after attending the funeral of a friend and fellow Marine who went missing in action in 1968.
When Simons met Jon Voight at a Whole Foods Market in Southern California, he convinced the Oscar winner to read the screenplay. "He personally called me at home to rave about the writing and told me, 'You should go make the movie. Just grab a camera and shoot it like John Cassavetes,' " recalls Simons, who also acts in the film, created a limited partnership to raise financing, shot a storyboard, bought all the props at thrift shops, and learned how to edit on Avid. When it was time to cast the integral role of Jackie, the missing Marine, Simons chose fellow New York transplant Aaron Houle out of 50 actors he auditioned after placing a casting notice in Back Stage in 2007.
"I think Aaron is going to be gigantic. He's got a great look and he's totally dedicated," says Simons. "I told him, 'Look, you're going to be playing a character that's not really a good guy.'" Simons didn't reveal Jackie's secret to Houle until they were on set. "It's a mystery," says the director, "and the better we conceal the secrets, the better."
Adds Houle, Jackie "had already served a tour in Vietnam by the time he met up with his friends, and from what I hear, there's some pretty terrible things going on. So it's hard not to feel sympathy for this guy who very clearly has issues. It's terrible what war can do to somebody." The actor wasn't concerned about playing an unsympathetic role in his first feature. "If you do your job and you do it well," he says, "you're going to distinguish yourself in many different roles, so you won't be labeled as that one particular part."
Playing a Marine must have come in handy: Houle later booked a national commercial, which is currently airing, for the World War II–set video game Call of Duty. His commercial agent is Daniel Mulheran of DPM Talent Agency. Houle has a degree in English and has taken up headshot and wedding photography on the side. So he can act, write, and shoot, but does he want to follow in Simons' footsteps? "I do have a few ideas I've been kicking around in my head from my experiences back at home in Canandaigua, [N.Y.,] but after seeing the amount of work that it takes to write and produce and direct and star [in] and edit a film, I don't really know if I'm up to that task."
Says Simons, "It's such a great thing to be in charge. I knew that I could do it. This project never would have been done if I didn't really do it. If it wasn't for this film, I would've gone nuts."
For more on the movie, visit www.stillthedrums.com. For more on Houle, go to www.aphoulephotography.com. Has Back Stage helped you get cast in the past year? We'd love to tell your story. Be in the weekly column by emailing casting@backstage.com for New York or bswcasting@backstage.com for Los Angeles with "I Got the Part" in the subject line.