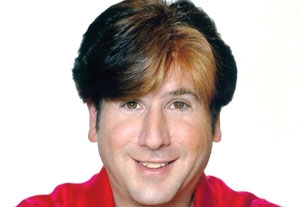 Aaron Merken fell in love with the Morgan-Wixson Theatre in Santa Monica, Calif., last summer, when he saw its production of "A Chorus Line." "I loved it so much that I went to see it twice," he says. "The second time I saw it, I thought to myself, 'Gee, I wish I could do a play here,' and then I couldn't believe when I saw the notice in Back Stage for 'The Further Adventures of Hedda Gabler.' I thought, 'This is fate.' "
The play, by Jeff Whitty, who wrote the book for the musical "Avenue Q," is an imaginative comedy in which Ibsen's Hedda Gabler meets characters throughout history and literature. Director Sabrina Ann Lloyd thought the role of Patrick, a wisecracking gay man with a 1960s style, might be difficult to cast. "The character is kind of a touchy stereotype," she explains. "I needed someone who could embrace the stereotype but also understand the homage that the writer was trying to pay."
Merken went to the open call and performed a monologue called "Lather, Rinse, Repeat." Lloyd was immediately impressed with him. "He was really poised and really prepared," she says. "He made more than just the intelligent read choice. He actually personalized his work. He was very professional, very kind, and had a very sweet disposition, which was critical for the character. He took direction very well. And he was incredibly polite."
But Merken was nervous when he didn't get a callback. "I had that feeling that you sometimes get, like, 'I think I got this part,' " he says. "When I didn't get called for the callback, I thought that maybe they'd just cast me as Patrick, and thankfully that's what happened. I got called right to the table read."
Lloyd was very happy with how Merken handled the role. "The character is sort of like a Beatrice in Dante's 'Inferno'—he's the gentle guide," she says. "So while having to be very campy and committed to this archetype from eras gone by, he also had to be sensitive and calming and a good listener. Aaron's politeness, sweetness, and openness made him a dead ringer for the role."
Merken, who says he buys Back Stage every week, absolutely loved his experience at the Morgan-Wixson: "I would love to work more with this theater, or with Sabrina, who turned out to be one of my most favorite directors I have ever worked with. She knew how to bring out the best in everybody. She was very complimentary and always gave positive reinforcement. And I just like it there at that theater; it's got a great feel to it and a great history."
Merken notes that he's often typecast as drag queens and homosexuals, which is why he is a strong believer in acting classes and workshops. "In class," he says, "you can play a whole range of roles that are completely different from what you would get cast at, which I love." He is currently between classes, though when he first came to Los Angeles he studied with Arlene Golonka, Brenda Vaccaro, Scott Colomby, and Richard Kline—"all wonderful teachers," he says.
"My dream is to be on a soap opera," the actor adds. " 'All My Children' is my favorite, and they moved out here, so I would love to be on that, even if it was for comic relief. Or a sitcom, like 'Two and a Half Men'—that would be a dream come true."
Merken is currently seeking representation. He can be contacted at (310) 838-5643.
Has Back Stage helped you get cast in the past year?  We'd love to tell your story. Be in the weekly column by emailing  casting@backstage.com for New York or bswcasting@backstage.com for Los Angeles with "I Got the Part" in the subject line.