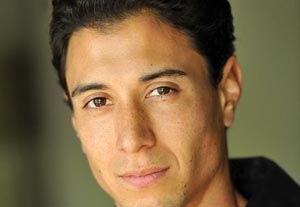 Though all actors want to land great roles, they also love to help tell a great story. The story told in "La Sierva" was what interested Adam Suzuki when he saw the notice on BackStage.com in June 2011. "It was described as a macabre thriller," he says. "The whole point of the movie is an immigrant worker, a maid, finds some money in one of the houses she cleans, after the people who live there are all shot. She decides to keep the money but leaves some evidence around, so the killers and the cops both come after her. The story revolves around all the things that happen to her before and after the incident, and it's pretty interesting, a very dark story."
Suzuki applied for the supporting role of Pedro, who was described in the notice as a kind, bookish, Latino male. The producers contacted him, and Suzuki, who lives in L.A., drove to San Diego for the audition. "They had me cold read," he remembers. "And then somebody else was coming in to read for the opposite part, so they asked me to wait around and read with the other person to see how that worked out, and they gave me some direction on some key points in the read, and what to change, and had me reread it, and that was about it." Suzuki was cast as Pedro and says he was impressed with the professionalism of the set and crew: "The producers were really organized. I was kind of surprised, 'cause a lot of independent projects aren't as organized as you'd think. It was really good working with them; I enjoyed it. The director, the writer, the producer—they're all friendly people, and they took care of me and made sure I didn't have to go too far out of my way for anything."
Suzuki began his acting career almost by accident, while traveling the world. It started in Costa Rica, when a man approached him and asked him to be in a commercial. "This adventure-tour place asked me to hook up a microphone, so they could record me riding mountain bikes and kayaking and stuff, to put on the Internet for a web commercial for their company," he recalls. Months later, while he was living in Japan, his landlady told him a director from Yokoso Japan, the government-funded tourism company, was looking for people to be in a tourism video. Suzuki played the lead in a documentary titled "Beautiful Japan."
Suzuki decided it was fate and moved from his home state of Arizona to L.A., where he has been working as background, acting in small films, and taking acting classes. "I've been taking casting director Melissa Scoff's cold reading class," he says. "She's great. I've also taken some commercial classes, not with schools but with people I've found through word of mouth."
Though he has landed featured roles in several TV shows, including NBC's "Chuck," Suzuki is interested mainly in film work. "The biggest thing is movies; that's what I'm really interested in," he says. "I want to do independent film, mostly feature films, like everybody, but I like action a lot. I really want to do some action movies. I think that'd be pretty fun."
Has Back Stage helped you get cast in the past year? We'd love to tell your story. Be in the weekly column by emailing casting@backstage.com for New York or bswcasting@backstage.com for Los Angeles with "I Got the Part" in the subject line.