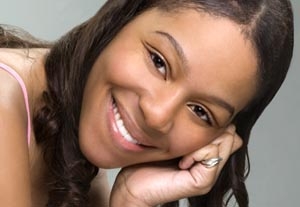 Hard work, focus, and dedication are requirements for success in any field, and when Adesa Swann brought all three to her audition, she came out with what she had gone in for: a job. "My thing was tunnel vision," she says. "I had to block everyone out and focus on me and my piece." The nonunion actor was cast as Lila, a young homeless woman, in Gary Batson's "The Sun and the Moon," a one-act play about a Bronx couple who take Lila in, an experience that tests their values, their convictions, and even their marriage.
"She seemed very dedicated," says Evria Atwell, artistic director of the Paul Robeson Theater, which produced an evening of paired one-acts by Batson, "and very committed to fulfilling not only the role but the run. And she was willing to work hard." Swann even went so far as to step into her character's shoes. "I slept in a couple of homeless shelters to get the feel of how they live their life day to day," she says. "It was an eye opener."
Swann studied at the American Musical and Dramatic Academy in New York City. She has also had private training at the Actors Studio and the Actors Conservatory, both in New York. Fresh out of school in 2004, she began doing commercial voiceovers and was eventually offered the chance to audition for the 13th Street Repertory Company, where she performed in her first plays, including Joel Shatzky's "Orphans."
Since the start of her acting career, Swann has been using Back Stage in her search for work. "I swear by Back Stage every single week," she says, "just to see what's out and about." She saw the casting notice for "The Sun and the Moon," and the theater's name caught her attention. "I was very familiar with Paul Robeson as a person; he has a huge background," she says. "He inspired me, and I've heard a lot about his theater, so I spoke to my manager about it, and he just said, 'Go for it.' " The nonprofit Paul Robeson Theater is the only African-American theater in Brooklyn.
At the audition, Swann feared she had let fly too much in her monologue. "More emotions came out than usual," she says. "I thought I had it down pat, but you can never have anything like that down pat, so I just let it go like a roller coaster, and when I was in the moment, the casting director thought there was more to the monologue. I told her that was it."
And it was. Swann would be Lila. "I just learned to trust myself more," she says. "Be focused, and just let yourself go and see where it takes you."