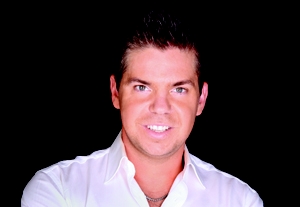 Alex Querna
hadn't been acting for very long when he saw the notice for "A Paradise of Bachelors" on BackStage.com. But when he went to audition for the lead role of Ricky, he brought two very important things: familiarity with the character and comfort in front of the camera.
"Ricky is an Iraq War veteran who's coming back and trying to readjust in the States, and he's a pretty mixed-up guy," Querna explains. "I have a bit of experience with the military lifestyle, being the son of an Army colonel and growing up in the Army myself." This familiarity was immediately clear to the film's writer-director, James "Jimbo" Bretney.
"He's got experience in some of the places I've been," Bretney says of the actor. "I was stationed in Fort Benning, and he lived in Fort Benning; I was in the Ranger Regiment, and his friends were in the Ranger Regiment. What's more, he looked like a soldier. With a lot of these actors, they look great, but I can't sell them as a soldier. That's one thing that Alex brings to the table. He's got a dignity to his bearing."
Querna was comfortable in front of the camera long before his first acting gig, having come to L.A. to work in sports television. "I started working in sports event production and broadcast, and I was able to eventually start hosting a sports show on the air," he says. "That's where I crossed over from behind the camera to in front of it. I was hosting a sports show that was broadcast on various cable networks across the country, and I went on from there to start hosting some other things outside of sports, some red carpet–type celebrity events. I hosted the behind-the-scenes on a music video, and I really enjoyed it."
It wasn't long before Querna was considering acting. "I started just casually looking for opportunities, and at my first audition ever, I landed a supporting role as a detective in a horror movie called 'Broken Dolls,' " Querna recalls. Even with this early success, he knew he had a lot to learn, so he began seeking instruction.
"When I started this whole process, I knew that just being a good television host was not enough," says Querna. "I didn't know anything about acting, so I wanted to get educated in the craft. I took a 12-week class with Michael Holmes, a really great instructor. He did a great job of building the foundation, really teaching me the fundamentals, and I continue to work with him to this day. And then I've also worked with Kimberly Jentzen, who's fantastic, and it's nice to get to work with a few different instructors and get different perspectives."
This hard work has paid off, landing Querna a large number of roles in a short time. "I've shot five films in the last three months, and it's kept me pretty busy," he says. "I know it's cyclical, it kind of goes up and down, but I was riding a little bit of a hot streak there, and you just do what you can to keep the momentum going." He adds that his immediate goal is to land a role on a television series.
"I'm an AFTRA union actor, and there are a lot of great AFTRA projects out there right now," he continues. "I'm also hoping to earn SAG eligibility as soon as possible, and a role on a union TV series would do it." Another film role with Bretney may also be in his future.
"I've got a project I'm writing right now that I'm considering Alex for," Bretney says. "Alex's performances have always been strong and reliable. You need somebody with ballast; not everyone can be the high flyer. You need an anchor, and in a lot of ways, Alex is the anchor. He's not flamboyant. He doesn't have a lot of panache, but he is steady, he's solid, and he's really funny, too. Alex took on this role with an aggressiveness that I find admirable."