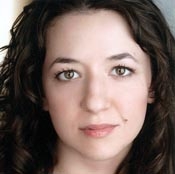 Role: Toni, a deranged cook at a diner
Project: 'The Off Season,' a nonunion indie horror feature
Alexis Black grew up in an acting family in Kent, Ohio, and vividly remembers watching her parents, who met during an interactive murder-mystery weekend, in community-theatre shows. She knew she was destined to be an actor when, at age 4, she fell backstage, hurt herself, and wailed, "I have to go back on stage!" All through high school she was a regular in summer stock before heading to Ohio University to earn her degree in acting.
But moving to New York City a year ago still proved difficult, despite Black's background and determination. She was seasoned but not experienced, so she started enrolling in acting classes, voice lessons, and improv workshops to keep busy. Then she started hearing through actor friends about Back Stage East, and last fall she saw a casting notice for an independent horror feature called Before Dawn.
Black chose to submit herself because she wanted to try something that her schooling and musical theatre projects hadn't trained her for. "It just looked fun and completely different," the classically trained stage actor says. "I'd never done anything like that before, [but] it didn't matter that I didn't have that much experience."
Black submitted her headshot, auditioned, and earned two callbacks before landing a supporting role. Gregory Caiafa, the director of the film (since retitled The Off Season), remembers being struck most by her charisma and presence. "Alexis was one of a small handful I read who electrified the room," Caiafa recalls. He says that on set last October in upstate New York, Black proved charming, enthusiastic, and proactive, and she never copped an attitude. "She relished the opportunity to blacken her teeth and muss her hair," Caiafa says. "She took the initiative."
Black says she learned from the experience to never limit herself to going out only for certain roles or projects, nor to shortchange her talent or give up too easily. "It's kind of like cross-training," she says. "I told myself I would give myself five years and be realistic about it. I'm off to a good start." Black also learned a valuable practical lesson: Submit for small roles, because not many people do. "You stand out," she explains. "There's nothing wrong with submitting for a small part if you get to meet people and work with people."
Have you scored an interesting role recently thanks to a casting notice in Back Stage? If so, email your story and your headshot to bswcasting@backstage.com with the subject line "I Got the Part!"