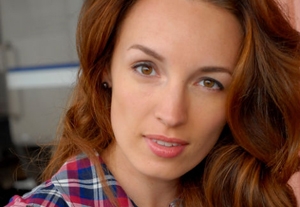 The audition process can be daunting, so it's a relief when booking a job leads to more offers. When Allison Volk saw the casting notice for "Sideshow Collectibles," she had no idea it would lead to about a year's worth of work on webisodes and a part in a short film.
Volk was doing her weekly reading of Back Stage when she saw a notice for hosting a series of webisodes for the Sideshow Collectibles product line of movie, TV, and comic book figurines and toys. Even though she wasn't involved in the collecting world, she says, "I'm a little bit of a nerd. When I was in college, I was in 'Star Wars the Musical,' and when I saw what the company was all about, I just knew that it was something that I wanted to be involved with, because I like that genre."
Travis Watkins, then the manager of the multimedia department at Sideshow Collectibles, and producer-director of the webisodes, says he posted the notice looking for a spokeswoman to help promote the products online. After going through the submissions, Watkins interviewed four applicants. Of this quartet of finalists, he says, "Allison was a stand-out by far." He hired Volk, and she came in and shot spots to promote approximately 15 products. Watkins says, "Allison was just awesome in every way. She was exactly what we needed."
When it came time for the Sideshow Collectibles Halloween event called "Spooktacular," Watkins says he wanted to get more ambitious with a short film called "Help Wanted." "Allison was like the bridge that could kind of jump in there with us and elevate the project to a new level," he says. Volk says by that time she had a following on the website, and Watkins wanted to include her on the team. "So I think he wrote the part for me," she says.
There was little rehearsal time, but according to Watkins, Volk was always prepared. He says, "She was very open-minded and eager to take the direction and kind of take it in a new place."
The short film was a great experience for Volk, because she not only had the part handed to her but also had the opportunity to do a lot of green-screen work, which was a new experience for her. She says, "[Green screen is] definitely a trippy part of acting for film because you just really have to go with it. That's what you're getting paid to do." Volk says because of the green screen, she was surprised how everything looked in the final film.
Besides acting, Volk also studied playwriting and has had one of her plays, "The Last Two People on the Platform," produced at the Attic Theatre and Film Center in Los Angeles. She is interested in pursuing both acting and writing.
Has Back Stage helped you get cast in the past year? We'd love to tell your story. Be in the weekly column by emailing
casting@backstage.com
for New York or
bswcasting@backstage.com
for Los Angeles with "I Got the Part" in the subject line.